Israeli PM Benjamin Netanyahu abandons attempt to form government | World News
Benjamin Netanyahu has abandoned his attempt to form a new coalition in a development that plunges Israel into further political uncertainty.
The long-serving prime minister fell short of securing a 61-seat parliamentary majority in last month's election.
President Reuven Rivlin gave him the first opportunity to form a government because he had the support of 55 politicians in the Knesset – one more than his main rival, ex-military chief Benny Gantz.
Mr Netanyahu, 70, had hoped to form a broad "unity" government with Mr Gantz of the Blue and White party.
However, on Monday evening Mr Netanyahu announced he had failed – two days before the deadline to present a coalition.
In a statement, Mr Netanyahu said: "Since I received the mandate, I have worked tirelessly both in public and behind the scenes to establish a broad, national unity government. That's what the people want.
"During the past few weeks, I made every effort to bring Benny Gantz to the negotiating table. Every effort to establish a broad national unity government, every effort to prevent another election.
"To my regret, time after time he declined. He simply refused."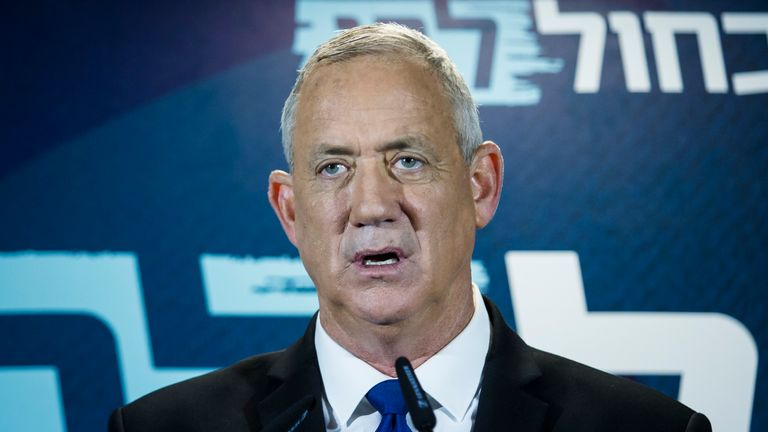 Mr Rivlin said he would give 60-year-old Mr Gantz a chance to form a government – and has 28 days to entice potential allies – but if Mr Gantz fails, Israel could hold its third election in less than a year.
Mr Netanyahu's Likud party was second in the September election, winning 32 seats compared with Mr Gantz's Blue and White party's 33.
Mr Netanyahu remains leader of the Likud party but having failed a second time this year to form a coalition and with Israel's attorney general set to decide in the coming weeks on whether to indict him in a series of corruption cases, the country's leader could come under heavy pressure to step down.
He is Israel's longest-serving leader, having served from June 1996 until July 1999 and from March 2009 until now.
Because Israel uses a proportional representation model it has always been governed by coalitions.
This means the larger parties depend on smaller parties to form what is usually either a right-wing or left-wing governing partnership.
:: Sky News is broadcasting a Brexit-free channel, weekdays 5pm to 10pm on Sky 523
Israel and Islamic Jihad reach ceasefire after dozens killed | World News
Israel and the militant group Islamic Jihad have begun a ceasefire after at least 34 Palestinians were killed in the heaviest fighting in months.
Almost half of the dead were civilians, including eight children and three women, medical officials in Gaza said.
Eight members of one Gaza family were killed by an Israeli missile strike shortly before the truce came into effect, officials and residents said.
They claimed none of the victims were militants.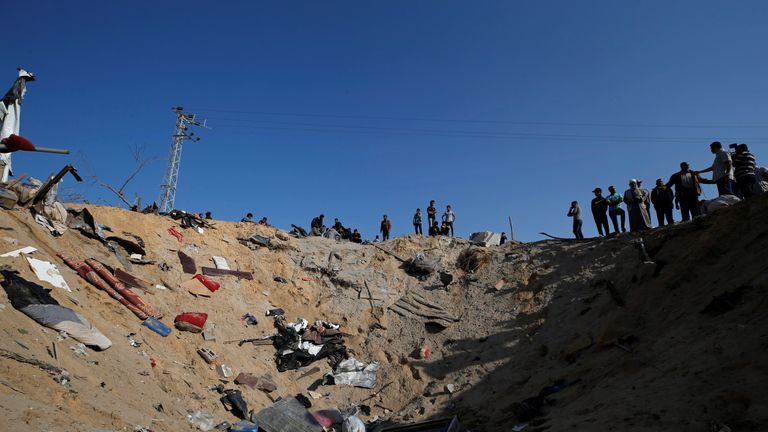 However, Israeli military spokesman Major Avichay Adraee said the head of the family, Rasmi Abu Malhous, who was among the dead, was the commander of Islamic Jihad rocket crews in the central Gaza Strip, although the group has not claimed him as a member.
Some of the family's bodies were completely buried in sandy earth, neighbours helping rescue workers to pull them out.
In two days of fighting, southern Israel was paralysed as militants fired hundreds of rockets across the border, injuring dozens of people.
Hamas, the dominant faction in Gaza, appeared to stay out of this round of fighting.
The clashes began early on Tuesday after Israel killed one of Islamic Jihad's senior commanders, Bahaa Abu el-Atta, who it had deemed to be an imminent threat.
He was claimed to be behind a string of rocket attacks, and was believed to be planning cross-border infiltration, Israel said.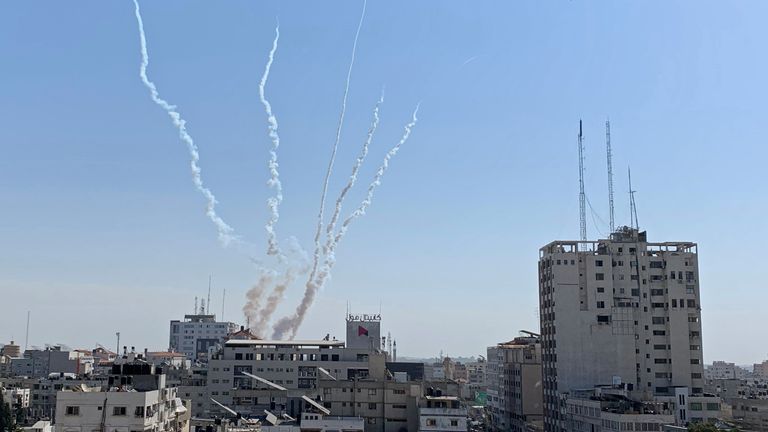 The Egyptian-brokered ceasefire began at 5.30am (03.30 GMT), about 48 hours after the fighting began, Islamic Jihad spokesman Musab al-Berim said.
"The ceasefire began under Egyptian sponsorship after the Occupation (Israel) submitted to the conditions set by Islamic Jihad on behalf of Palestinian resistance factions," he said.
An Israeli military spokesman announced that its Gaza operation was over on Twitter.
"Quiet will be answered with quiet," Israel's foreign minister, Israel Katz, told its Army Radio.
Islamic Jihad, like Hamas, refuses to accept permanent coexistence with Israel.
Evo Morales: Bolivia's president quits over electoral fraud claims

Bolivian President Evo Morales has resigned amid deepening unrest over allegations of electoral fraud.
The announcement came after the country's military chief went on TV on Sunday to call for him to step down.
Mr Morales has endured weeks of anti-government protests since his election victory last month was called into question, with the Organization of American States later discovering "clear manipulation" at the polls.
Concerns were initially raised about a day-long gap in reporting results from the poll, just before a spike in votes for Mr Morales.
Mr Morales, who came to power in 2006, had promised a fresh election.
In his TV appeal, General Williams Kaliman said: "After analysing the situation of internal conflict, we ask the president to resign, allowing peace to be restored and stability to be maintained for the good of our Bolivia."
He also urged Bolivians not to resort to violence.
India's top court awards disputed holy site in Ayodhya to Hindus | World News
India's top court has awarded a disputed religious site to Hindus – rejecting a rival Muslim claim.
The verdict threatens to heighten tensions between the two communities, which have been embroiled in a bitter dispute over the land – with deadly riots ensuing.
The unanimous ruling paves the way for the building of a Hindu temple on the site in the northern town of Ayodhya, a move long supported by Prime Minister Narendra Modi's ruling Hindu-nationalist party.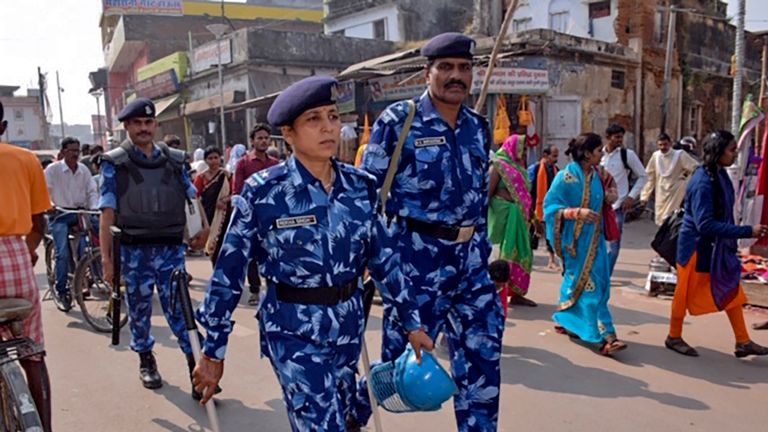 It will be seen as a political victory for Mr Modi, who won a second term in a landslide general election win this year.
The row over ownership has been one of the country's most contentious issues.
Hindus believe the three-acre plot of land – which is about the size of a football pitch – was the birthplace of Lord Ram, a physical incarnation of the Hindu god Vishnu.
They argue the site was holy for Hindus long before the Muslim Mughals, India's most prominent Islamic rulers, built what was known as the Babri mosque there in 1528.
The mosque was destroyed by a Hindu mob in 1992, triggering religious riots in which about 2,000 people, most of them Muslim, were killed across the country.
It also led to a series of court battles with various groups staking claim to the site.
The Honourable Supreme Court has given its verdict on the Ayodhya issue. This verdict shouldn't be seen as a win or loss for anybody.

Be it Ram Bhakti or Rahim Bhakti, it is imperative that we strengthen the spirit of Rashtra Bhakti.

May peace and harmony prevail!

— Narendra Modi (@narendramodi) November 9, 2019
India's supreme court directed that an alternate parcel of land be provided to a Muslim group that had staked a claim to the disputed site.
The land has been heavily protected since the 1992 religious clashes.
Ahead of the ruling, security was tightened in Ayodhya and across India, especially in cities that have been the scene of communal violence previously.
In some regions, restrictions were placed on gatherings and police were monitoring social media to curb rumours that could inflame community tensions.
In some towns, internet services were also suspended, while schools and colleges have been closed until Monday.
In a series of tweets last night, Mr Modi said: "Whatever decision of the supreme court will come on Ayodhya, it will not be a victory or defeat for anyone.
"My appeal to the countrymen is that it should be the priority of all of us that this decision should further strengthen the great tradition of peace, unity and goodwill of India."
Hindu supporters and activists celebrated the ruling on the court lawns, blowing bugles and chanting "Jai Shree Ram", or hailing the god Ram.
A lawyer representing the Muslims deplored the ruling.
"We are not satisfied with the verdict and it's not up to our expectation," said Zafaryab Jilani, who is representing the Muslim community group.
He hinted at filing a review petition in the supreme court challenging Saturday's verdict. At the same time, he appealed to members of all communities to maintain peace.
Vishnu Shankar Jain, an attorney who represented the Hindu community, said it had been a struggle.
"It was a huge legal battle and we are happy that we convinced the supreme court. It's a historic moment for Hindus," he said.
Raj Nath Singh, India's defence minister, appealed to people to "accept the court verdict and maintain peace".
In Islamabad, Pakistan's foreign minister, Shah Mahmood Qureshi, criticised the verdict, saying it was indicative of the "hate-based mindset" of Mr Modi's government.
"This is nothing but Modi's government continued policies of cultivating seeds of hatred and promoting differences between the communities and religious segments of the population to achieve its designs," he said.