It's eerie and silent on the border being cleansed of Kurds
The soldiers wave us through the checkpoint saying everything is OK.
"There have been no attacks for a while," they shout after us. Which didn't really settle the nerves.
We are heading towards the northern Syrian town of Derbasya. I have been here many times before.
Unless you know there is a border, as you approach this town you would be forgiven for thinking the Kurdish and Turkish sides are one city, they are so close.
It would be an easy mistake to make, today it would also be a lethal one.
I have travelled through this region so many times I can barely remember the number. I have been scared many times.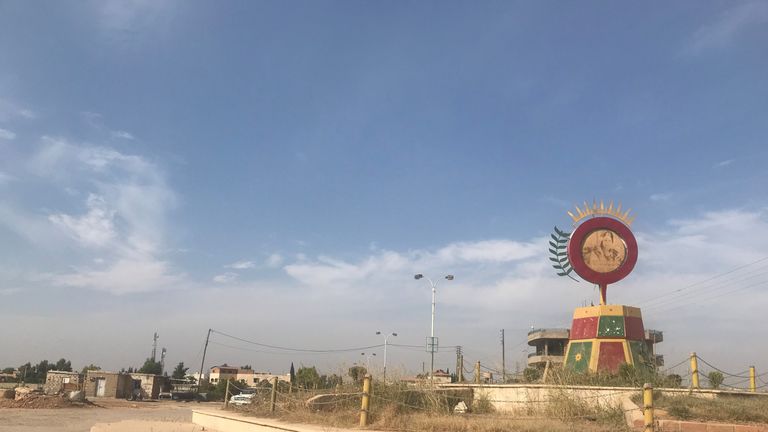 First by the Syrian regime troops of Bashar al Assad who patrolled and searched for us relentlessly as I moved at night with the Free Syrian Army (FSA).
Later with Kurds trying to avoid the dangers of the then increasingly dangerous but relatively unknown ISIS movement that became Islamic State.
Then there was the time I joined the fight to free the IS headquarters of Raqqa with the Syrian Defence Forces, which was a mix of Kurds, Arabs, Christians and a few others of bewildering denominations.
But, I was never scared of the Turkish military, a NATO country, and never dreamt I would ever be frightened of the FSA, which I have known from the start in 2011, even as they were basically nothing more than a few blokes with guns trying to defend the town of Homs in western Syria.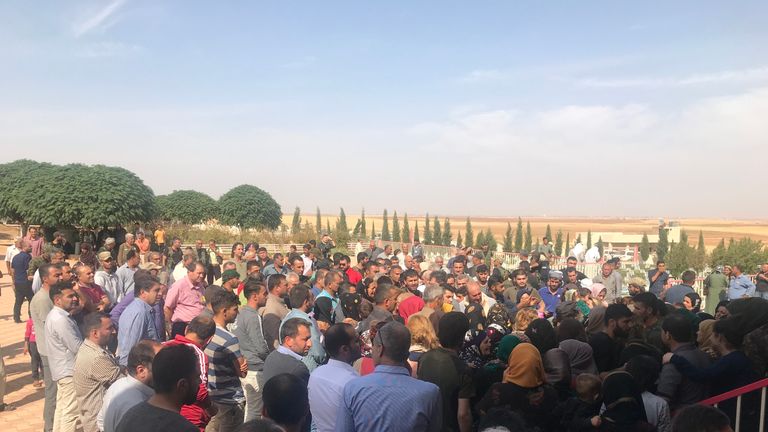 Now I am scared of both as I drive towards the border.
The FSA and the Turks are attacking the Kurds who were supported by the British, the US and French special forces in the fight against IS.
What on earth is going on in this dreadful war? A question I have constantly failed to answer, even to myself.
Through the last checkpoint we see a huge convoy of cars heading across the bone-dry dusty farmlands of northeast Syria.
It looks like a funeral cortege and I ask our driver to follow.
We head on to dirt tracks to catch up and soon realise it is indeed a funeral for two Kurdish militia fighters.
Overtaking, by driving across the fields, we see the coffins of the men surrounded by fighters hunkered down in trucks with the back doors open.
There were dozens upon dozens of cars and four-wheel drives. A mixture of civilians and fighters. This was a sombre and angry group. There was no waving to us, no "hello".
Nothing but grim-faced anger.
Tradition dictates the fallen should be laid to rest in their home village, if it is possible.
At the cemetery the bodies of the two men were taken by their families and fighting comrades.
One of the men was Ciwan Celo, a seven-year veteran of the Kurdish militia, the YPG.
He fought IS alongside the US special forces, but died in Derbasya, killed by the NATO ally, Turkey.
As the bodies were laid in front of a stage, the family and their friends cried aloud.
There is pain and anguish as you would expect at any funeral. But there is anger here as well.
All of the people gathered for the funerals feel betrayed by the US. They expected nothing more from Turkey, in truth they have been waiting for it. But being abandoned by the US is the last straw.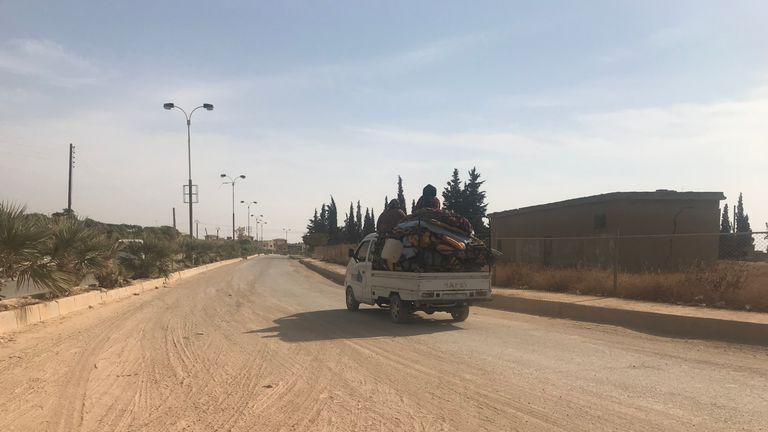 As we filmed a small but angry group gathered around us, accusing us of being American traitors. Eventually they accepted we were not but they still wanted us to leave.
I was taken aback. It has never happened to me here before, I never thought it could. But it did.
We left and travelled back to Derbasya a few miles away.
Along the road cars filled with men, women and children and piled high with belongings kept passing, going the other way.
We stopped a soldier and he told us that the town was almost empty.
The bombing had been so severe that almost everyone took what they could and left.
At a roundabout on the edge of the town we stopped cars full of people and asked where they were going.
The men said they were ashamed to leave but insisted they were driving their families to safety and intended to return to fight.
I believe that is exactly what they intend to do – Kurds do not run. After centuries fighting for any land they could call home, they don't give it up lightly.
We drove into town and it was virtually deserted. Some men and women were loading their trucks with the stock from their shops. Pretty much everyone else had gone.
At the end of the main street I could see an enormous Turkish flag. That is the front line.
A soldier waved to stop us from going further. "Snipers" was the translation. It was eerie and scary and virtually silent.
The attacks from the Turkish guns are doing the job the government wants: to flush out the Kurds from their homes along hundreds of miles of border. Tens of thousands are on the move.
You can call this military action many things but the border is being cleansed of Kurds.
Trump 'fully prepared' to use military force against Turkey to protect Kurds in Syria
Donald Trump is "fully prepared" to use military force if "needed" against Turkey after Ankara launched an offensive against America's allies in Syria.
"We prefer peace to war," Secretary of State Mike Pompeo told CNBC.
"But in the event that kinetic action or military action is needed, you should know that President Trump is fully prepared to undertake that action."
He declined to say where Mr Trump's red line would be to prompt a US military response, and the State Department refused to comment.
The comments from the president's top diplomat came as skirmishes between Turkish and Kurdish forces continued despite a five-day ceasefire brokered by the US, which is due to end on Tuesday.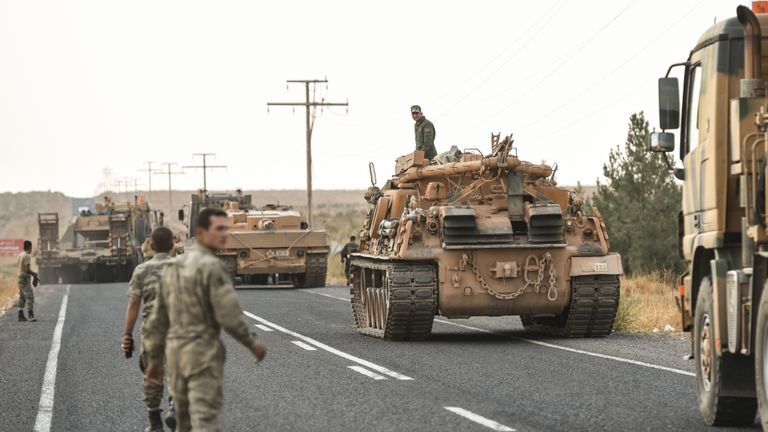 Mr Trump said the ceasefire was holding, dismissing the clashes.
The president has been criticised by Democrats and Republicans for suddenly announcing he was withdrawing US troops from Syria, leaving their allies, the Kurds, to fend off Turkey who sees them as being linked to terrorists.
On Monday he announced not all troops would be leaving straight away, despite saying he did not want to leave any in Syria.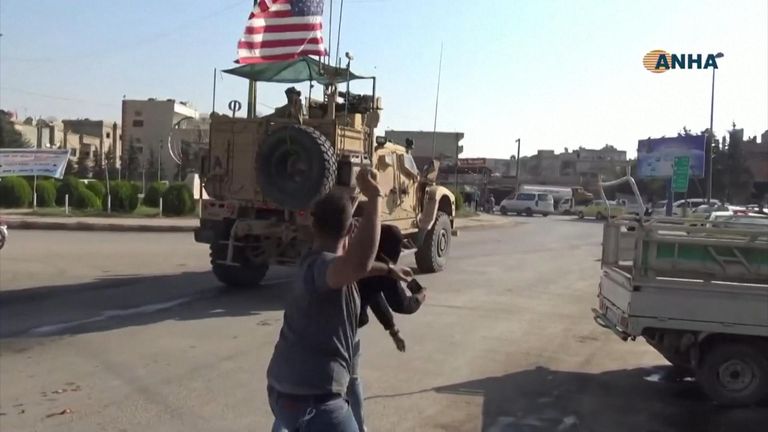 He said some troops would remain in the country and others currently in Syria would be redeployed to Iraq instead of going home.
Speaking at a meeting with his cabinet, Mr Trump said: "We never agreed to protect the Kurds for the rest of their lives."
He added that he was achieving a campaign promise to disengage from international conflicts as he looks ahead to next year's election.
The president said a small number of US troops would stay "in a little different section to secure the oil," as well as in "a totally different section of Syria near Jordan and close to Israel".
"That's a totally different mindset," he said.
"Other than that, there's no reason for US troops to remain. They're going to be sent initially to different parts.
"Ultimately, we're bringing them home."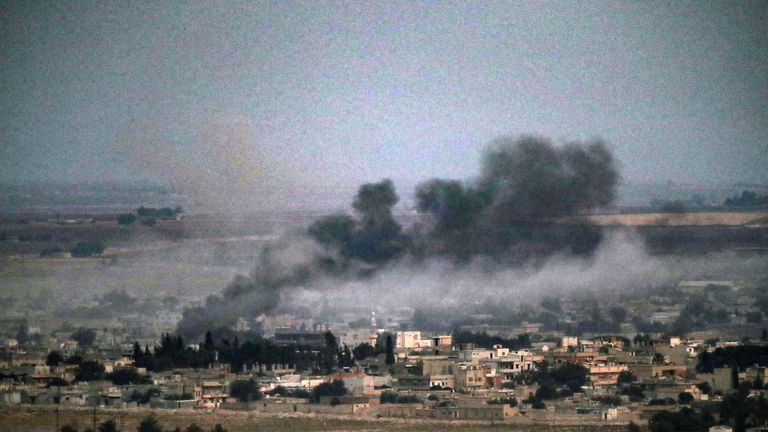 He added that Israel and Jordan asked him to keep some troops in Syria.
US defence secretary Mark Esper said the Pentagon was considering keeping some US troops near oilfields in northeastern Syria alongside Kurdish-led Syrian Democratic Forces (SDF) to ensure Islamic State (IS) militants cannot get to the oil.
As the ceasefire comes to an end, Germany suggested a security zone in northern Syria was created to protect displaced civilians and ensure the fight against IS insurgents continues.
German defence minister Annegret Kramp-Karrenbauer said the zone should involve Turkey and Russia to protect at least 160,000 Syrian Kurds who the UN says have fled their homes since the Turkish assault started.
It is the first time the German government has proposed a military mission in the Middle East, with Berlin expected to send soldiers to Syria if it is backed by Turkey and Russia, who see the Kurds as enemies.
Israeli PM Benjamin Netanyahu abandons attempt to form government | World News
Benjamin Netanyahu has abandoned his attempt to form a new coalition in a development that plunges Israel into further political uncertainty.
The long-serving prime minister fell short of securing a 61-seat parliamentary majority in last month's election.
President Reuven Rivlin gave him the first opportunity to form a government because he had the support of 55 politicians in the Knesset – one more than his main rival, ex-military chief Benny Gantz.
Mr Netanyahu, 70, had hoped to form a broad "unity" government with Mr Gantz of the Blue and White party.
However, on Monday evening Mr Netanyahu announced he had failed – two days before the deadline to present a coalition.
In a statement, Mr Netanyahu said: "Since I received the mandate, I have worked tirelessly both in public and behind the scenes to establish a broad, national unity government. That's what the people want.
"During the past few weeks, I made every effort to bring Benny Gantz to the negotiating table. Every effort to establish a broad national unity government, every effort to prevent another election.
"To my regret, time after time he declined. He simply refused."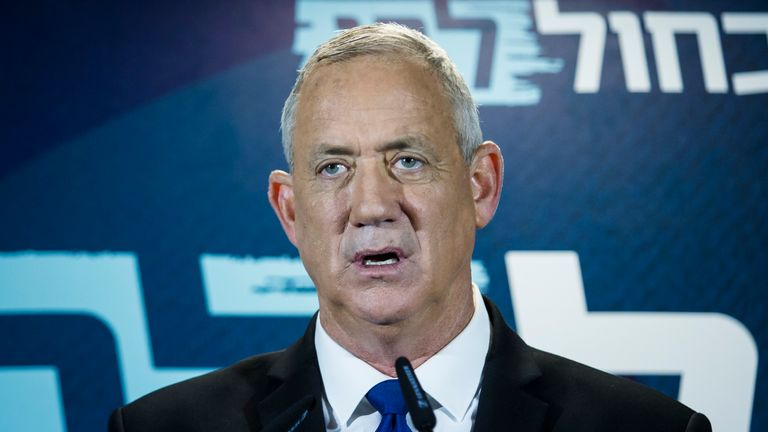 Mr Rivlin said he would give 60-year-old Mr Gantz a chance to form a government – and has 28 days to entice potential allies – but if Mr Gantz fails, Israel could hold its third election in less than a year.
Mr Netanyahu's Likud party was second in the September election, winning 32 seats compared with Mr Gantz's Blue and White party's 33.
Mr Netanyahu remains leader of the Likud party but having failed a second time this year to form a coalition and with Israel's attorney general set to decide in the coming weeks on whether to indict him in a series of corruption cases, the country's leader could come under heavy pressure to step down.
He is Israel's longest-serving leader, having served from June 1996 until July 1999 and from March 2009 until now.
Because Israel uses a proportional representation model it has always been governed by coalitions.
This means the larger parties depend on smaller parties to form what is usually either a right-wing or left-wing governing partnership.
:: Sky News is broadcasting a Brexit-free channel, weekdays 5pm to 10pm on Sky 523
Imran Khan 'shocked' by how Diana's death affected Pakistan | World News
Pakistan's prime minister Imran Khan says he was "shocked" and "amazed" by the effect Princess Diana's death had on people in his country.
He was speaking after meeting her son Prince William and Kate during their royal tour last week.
Mr Khan revealed how Pakistanis reacted with sorrow after the princess died in a car crash in 1997 while being pursued by paparazzi.
He told CNN: "I was touring my constituency when I heard of the accident, and I can tell you that the impact it had on the people shocked me.
"I mean, these were rural peasants. I wouldn't have even thought they would have heard of Princess Di.
"But when they heard of accident and her death… I was amazed at how Princess Diana had penetrated, even in these rural constituencies."
The prime minister also spoke to the Duke and Duchess of Cambridge about his path to becoming Pakistan's top politician, having first met the prince in the 1990s, not long after he started his party.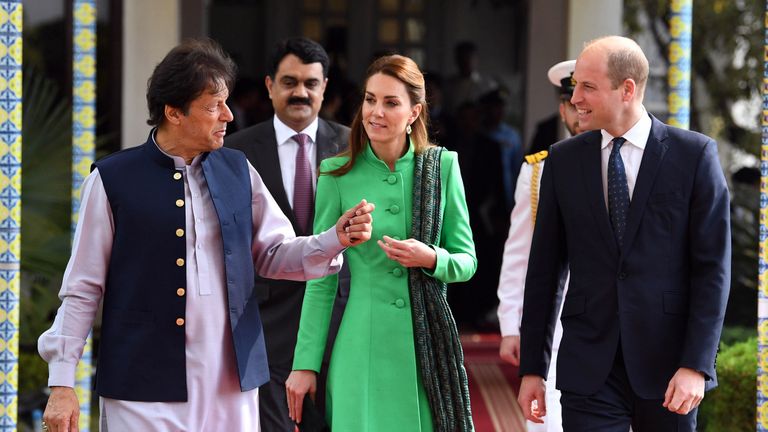 The former international cricketer said: "It's 23 years since I started my political movement and I assumed that it would be very easy, here's my party and I would go out and people would vote for me.
"Little did I realise what I would go through to get here."
Mr Khan met the royal couple on their five-day tour, during which they enjoyed a wide range of locations, cultures and occasions.
On the tour, a young girl at a government-run school said she was a "big fan" of the late princess.
William and Kate also went to the Hindu Kush mountain range where they learned about climate change and glacial melting.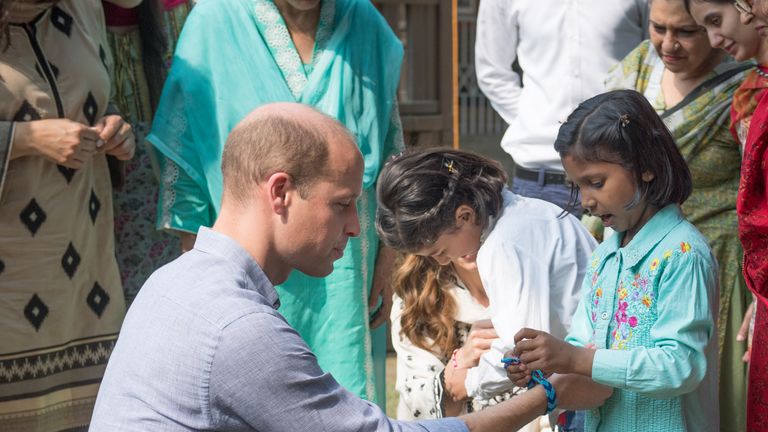 On Friday, they made an unexpected return visit to an orphanage, where a young girl presented the duke with a handmade bracelet.
William and Kate visited the SOS Children's Village for the second time in two days after their RAF plane, which was heading to the capital Islamabad, encountered bad weather and returned to Lahore.
The couple also painted with children from the orphanage, which houses more than 150 orphans.