New Delhi: Pollution reaches 'unbearable' levels in India's capital | World News
Pollution in the Indian capital of New Delhi reached its highest level so far this year on Sunday, with the city declaring a public health emergency.
The air quality index in the world's most polluted city has registered a score of more than 900 – far beyond the score of 500, which qualifies as "severe-plus".
In comparison, the air quality level in London on Sunday topped out at about 50, which is classed as moderate.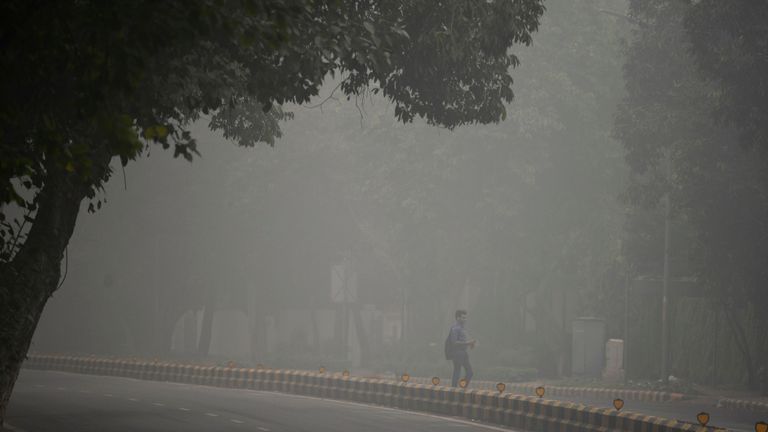 Levels above 400 on the air quality index puts people with breathing problems at risk of illness, and can even severely affect those with healthy lungs.
Smog in New Delhi is so bad, and visibility so low, that flights to the city of 40 million people had to be diverted away from the airport – amid fears there could be an accident.
New Delhi's roads were empty as people chose to stay indoors rather than expose themselves to the harmful gases in the atmosphere.
The city's chief minister, Arvind Kejriwal, said on Twitter that pollution has reached "unbearable" levels across north India, and that his government taken steps to try and help.
Mr Kejriwal added that people in Delhi were suffering through no fault of their own.
India's System of Air Quality and Weather Forecasting and Research (SAFAR), said that the next few days will remain the same – bringing little relief to the city – adding that humidity from overnight rainfall had exacerbated pollution caused by farmers burning their crops.
:: A New Climate is a series of special podcasts from the Sky News Daily. Listen on Apple Podcasts, Google Podcasts, Spotify, Spreaker
Mahesh Palawat from Skymet, a forecasting agency in India, said: "Wind speed is picking up and it could take 24 to 48 hours before the pollution level reduces to a level of around 500."
On Friday, the government in New Delhi closed down schools and stopped all construction activity as part of a declaration of a public health emergency, and on Monday private vehicles will be restricted in the city, based on the numbers on registration plates.
However, Mr Palawat says that the measures may not be enough, saying: "The temporary restrictions on private vehicles will have a negligible impact as we face the most hazardous situation."
Local officials from neighbouring states are urging the central government to take tougher action on farmers who stubble-burn their crops.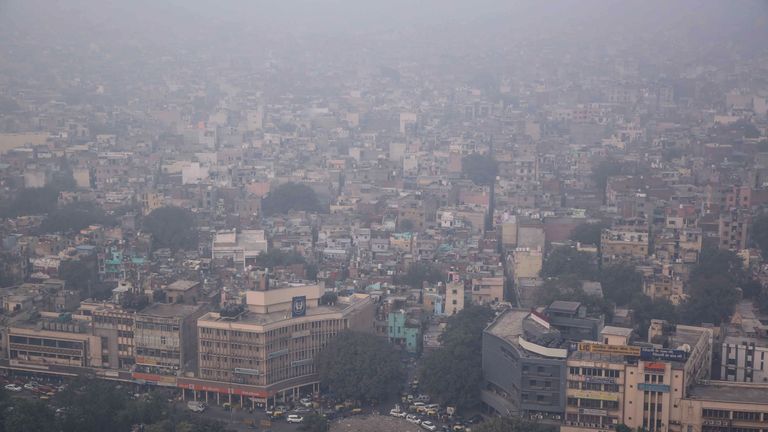 Stubble-burning is the practice of destroying the leftover crops after a harvest to clear the ground, but it is blamed for the high levels of pollution in New Delhi.
According to SAFAR, satellite images had captured more than 3,000 instances of stubble-burning around the area of New Delhi, which it says contributes to 44% of the pollution.
China condemns 'attack' on Hong Kong official in London | UK News
The Chinese and Hong Kong governments have condemned an "attack" on a Hong Kong government official in London.
Protesters were involved in an altercation with Hong Kong's Secretary for Justice Teresa Cheng during her visit to London on Thursday.
A statement from the Hong Kong government said Ms Cheng suffered "serious bodily harm", but gave no further details.
Video footage of the incident shows the minister falling to the ground.
Hong Kong's leader Carrie Lam strongly condemned the "attack", saying the incident was brutal and transcended the bottom line of a civilised society.
"The secretary denounces all forms of violence and radicalism depriving others' legitimate rights in the pretext of pursuing their political ideals, which would never be in the interest of Hong Kong and any civilised society," the Hong Kong government said in a separate statement.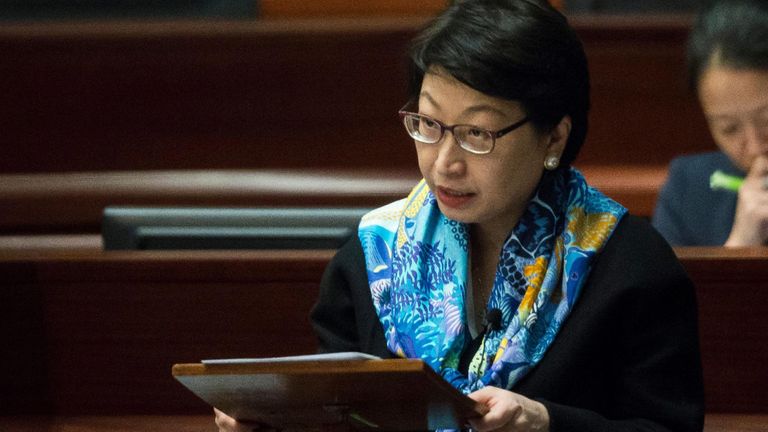 The Chinese embassy in the UK has urged UK police to carry out a thorough investigation of the incident and to step up security for its personnel and organisations in Britain.
In Hong Kong, a 70-year-old man has died after being struck on the head during clashes between government supporters and protesters.
Hong Kong's Food and Environmental Hygiene Department expressed "profound sadness" at the death of its cleaning worker and said it was providing assistance to his family.
Meanwhile, anti-government protesters have again paralysed parts of Hong Kong, forcing schools to close and blocking some roads as students built barricades in university campuses.
The protests escalated in June over an extradition bill that would have allowed people to be sent to mainland China for trial.
The bill was later scrapped but the protests have since evolved into calls for greater democracy, among other demands.
The months-long protests have plunged the former British colony into its biggest political crisis in decades and pose the biggest challenge to Chinese President Xi Jinping since he came to power in 2012.
Israel and Islamic Jihad reach ceasefire after dozens killed | World News
Israel and the militant group Islamic Jihad have begun a ceasefire after at least 34 Palestinians were killed in the heaviest fighting in months.
Almost half of the dead were civilians, including eight children and three women, medical officials in Gaza said.
Eight members of one Gaza family were killed by an Israeli missile strike shortly before the truce came into effect, officials and residents said.
They claimed none of the victims were militants.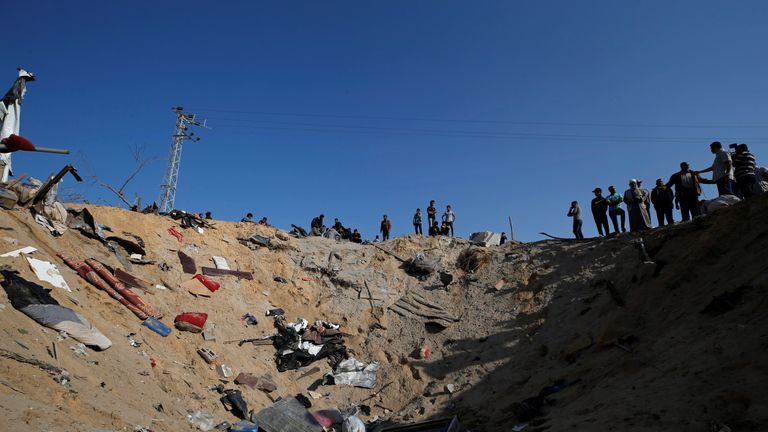 However, Israeli military spokesman Major Avichay Adraee said the head of the family, Rasmi Abu Malhous, who was among the dead, was the commander of Islamic Jihad rocket crews in the central Gaza Strip, although the group has not claimed him as a member.
Some of the family's bodies were completely buried in sandy earth, neighbours helping rescue workers to pull them out.
In two days of fighting, southern Israel was paralysed as militants fired hundreds of rockets across the border, injuring dozens of people.
Hamas, the dominant faction in Gaza, appeared to stay out of this round of fighting.
The clashes began early on Tuesday after Israel killed one of Islamic Jihad's senior commanders, Bahaa Abu el-Atta, who it had deemed to be an imminent threat.
He was claimed to be behind a string of rocket attacks, and was believed to be planning cross-border infiltration, Israel said.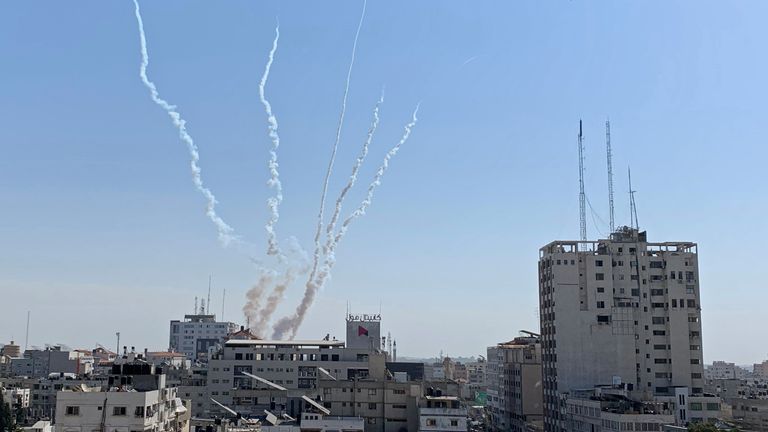 The Egyptian-brokered ceasefire began at 5.30am (03.30 GMT), about 48 hours after the fighting began, Islamic Jihad spokesman Musab al-Berim said.
"The ceasefire began under Egyptian sponsorship after the Occupation (Israel) submitted to the conditions set by Islamic Jihad on behalf of Palestinian resistance factions," he said.
An Israeli military spokesman announced that its Gaza operation was over on Twitter.
"Quiet will be answered with quiet," Israel's foreign minister, Israel Katz, told its Army Radio.
Islamic Jihad, like Hamas, refuses to accept permanent coexistence with Israel.
Evo Morales: Bolivia's president quits over electoral fraud claims

Bolivian President Evo Morales has resigned amid deepening unrest over allegations of electoral fraud.
The announcement came after the country's military chief went on TV on Sunday to call for him to step down.
Mr Morales has endured weeks of anti-government protests since his election victory last month was called into question, with the Organization of American States later discovering "clear manipulation" at the polls.
Concerns were initially raised about a day-long gap in reporting results from the poll, just before a spike in votes for Mr Morales.
Mr Morales, who came to power in 2006, had promised a fresh election.
In his TV appeal, General Williams Kaliman said: "After analysing the situation of internal conflict, we ask the president to resign, allowing peace to be restored and stability to be maintained for the good of our Bolivia."
He also urged Bolivians not to resort to violence.