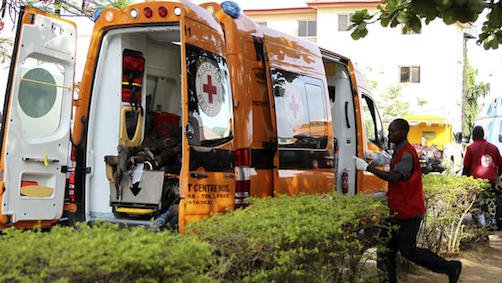 In less than 24 hours, the dreaded islamic insurgents, Boko Haram also called ISWAP (Islamic State's West African Province) may kill another health worker abducted early this year on March 01, 2018 at Rann if Nigerian authorities did not come to their rescue.
ISWAP had killed one sometime in September 2018, with a promise to kill another in less than 24 hours.
The health workers abducted were working with the International Committee of the Red Cross (ICRC) to save lives prior to their kidnap.
Also on the list is Leah Sharibu, who was abducted in Dapchi school when the insurgents raided the town of Dapchi in Yobe state, northeast Nigeria.
The ICRC, in a statement by Aleksandra Matijevic Mosimann and made available to DAILY POST, said it is making an urgent public appeal to the Nigerian Government and to communities and individuals with influence to work towards the release of the two committed medical workers abducted.
According to ICRC, "speed and urgency are critical. A deadline that could result in the killing of another health-care worker is less than 24 hours away.
"To the holder of these kidnapped women, ISWAP (Islamic State's West African province group): We urge you for mercy. We urge you to not kill another innocent health care worker who was doing nothing but helping the community in north-east Nigeria.
"Hauwa Mohammed Liman worked in a hospital supported by the International Committee of the Red Cross (ICRC) when she was abducted on 01 March with Alice Loksha, a nurse who worked in a centre supported by UNICEF.
"Hauwa and Alice are medical workers who chose to work and help vulnerable communities in Rann, an area heavily affected by violence", said Mamadou Sow, the head of ICRC's Operations in the Lake Chad Basin. "The town's population has more than doubled because of the conflict, while most local health-care staff have fled. These women were providing essential and life-saving services to thousands of people, displaced and resident alike. All they sought to do was help."
A third health care worker abducted alongside Hauwa and Alice – ICRC colleague Saifura Hussaini Ahmed Khorsa — was killed by her abductors in September.
The ICRC called on those involved with the case to do everything they can to avoid a repeat of that devastating outcome.
"Leah Sharibu, a 15-year-old school student, was taken from her school in Dapchi in a separate abduction incident in February.
"She is also being held by the same armed group and everything must be done to ensure she too is released promptly and unharmed.
"We urge you: spare and release these women. They are a midwife, a nurse and a student. Like all those abducted, they are not part of any fight," said Patricia Danzi, Director of ICRC Operations in Africa.
"They are daughters and sisters, one is a mother — women with their futures ahead of them, children to raise, and families to return to."
Already, families of the abducted health workers are seriously worried.
It was gathered that the minister of Information, Alhaji Lai Mohammed led a Federal Government delegation to visit Leah Sharibu's family, who also had been pleading with the government to save their daughter.
As the clock ticks, concerned members of the public in Maiduguri and Yobe state have called for prayers and the intervention of God for the safe return of the abducted women and girl.