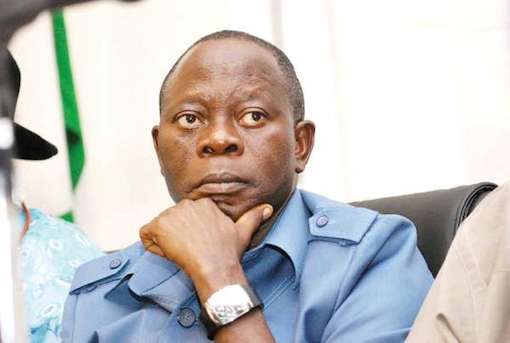 Members of the All Progressives Congress, APC, that aspired for House of Representatives and House of Assembly on the party's platform, in Ondo State, have dragged the National Chairman, Comrade Adams Oshiomole and the Independent National Electoral Commission, INEC, to court.
The aspirants are agitating over the outcome of the party's primaries in the state.
The Speaker of the State House of Assembly, Kenneth Olawale, led the aspirants numbering 100.
The aggrieved aspirants said "There was no primary election in the state through which the candidates of the party could have emerged for next year's general elections."
The aspirants include Eni Omosule, Mukaila Ayorinde Ajakaye, Coker Malachi, Ayodeji Arowele, Dele Ologun, Olaposi Joe Babatunde and Agunloye Taiwo among others.
Through their lawyer, Wale Omotoso, they are asking the court to declare that the ruling APC do not have candidate for the National and State Assembly elections in the state.
They said that the ruling party violated the 2010 Electoral Act and the constitution of the country by presenting candidates for the forthcoming election without the conduct of party primaries which is one of the prerequisites for the emergence of candidates.
According to them, they were harassed, intimidated and chased out of the venues of the primaries with matchetes and guns by thugs of preferred candidates.
Aside Oshiomhole, the suit has as defendants the APC, the National Legal Adviser, Babatunde Ogala, the state chairman of the party in Ondo State, Mr Ade Adetimehin and the INEC.
The aggrieved aspirants asked for a "declaration that the subversion of the Electoral Guidelines of the APC as stipulated in its constitution by the party machinery in Ondo State in respect of the House of Representatives and House of Assembly primaries purportedly conducted on the October 5, 2018 in their failure to give the claimants opportunity of being voted for by the members of the party as enshrined in the constitution of the Federal Republic of Nigeria, 1999 as amended is illegal, invalid, unconstitutional, null and void."