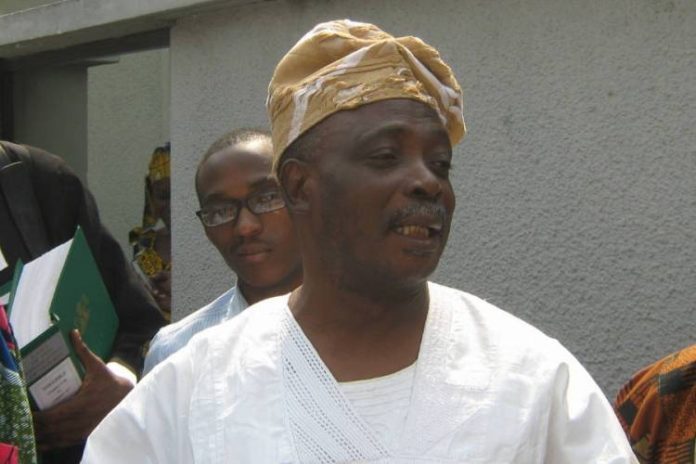 A Peoples Democratic Party (PDP) gubernatorial aspirant in Oyo State, Engineer Seyi Makinde, on Tuesday reacted to last week's defection of former governor of the state, Senator Rasidi Adewolu Ladoja from the PDP to the African Democratic Congress (ADC).
Makinde, while describing the defection of the ex-governor and his loyalists as a good omen for the party, said he was surprised that the former governor was not satisfied with the respect accorded him (Ladoja) by both state and national leaders of the party.
The PDP stalwart, in a statement issued on his behalf by Prince Dotun Oyelade, spokesman of the Seyi Makinde Campaign Organisation, a copy which was sent to DAILY POST on Tuesday, thanked members of the party for standing with the party at its "trying period".
He however declared that the exit of the former governor has no doubt opened doors to thousands of people who swore never to join the PDP because of Ladoja.
He added that the respect given to the ex-governor while in PDP was to fulfill all righteousness not because the party lacked capable individuals to win the 2019 general elections.
Makinde added that contrary to insinuations, the party does not need the former governor or any of his loyalists to win any election in the state.
He said, "The party both at the state and national levels accorded Senator Rashidi Ladoja utmost respect as much as humanly possible.
"The respect and plea given to him was to fulfill all moral requirement and not because the party lacks required followership, credible men and goodwill to win the state.
"Ladoja's exit has opened the doors to thousands of people who swore never to join us because of Senator Ladoja.
"We are very cautious and sober but the truth is that God has been faithful to us and we have been witnessing renewed interest from our long lost friends in the past one week.
"We reiterates that PDP doors are still open to those who wish to return."
The governorship aspirant added that, "Apart from strategic leaders who have signified their intention to join PDP, 95 percent of the 27 state party executives and 30 of the 33 local government party chairmen are intact including the chairman and the secretary at the state level.
"I thanked the leaders and supporters of the party who have stood behind the party during the trying period for their steadfastness, no individual's personal ambition will supersede the will of the majority.
"I am personally proud and happy at the news of renewed confidence coming from Ogbomoso, Ibarapa, Oke-Ogun, Oyo and Ibadan zones and applauded long time political associates of the former governor who have pitched their tents with PDP."