Hong Kong: 'Silver protest' as elderly march in support of youths | World News
Senior citizens in Hong Kong have taken to the streets in support of the youths at the forefront of month-long protests against a widely-hated extradition bill.
About 2,000 elderly people, including a popular actress, joined a "silver hair protest" in the semi-autonomous Chinese territory on Wednesday.
Wearing white tops and black trousers, the demonstrators, some in wheelchairs, held placards that read, "Never give up" and "Stay together" in a show of unity with youth protests against a controversial extradition bill.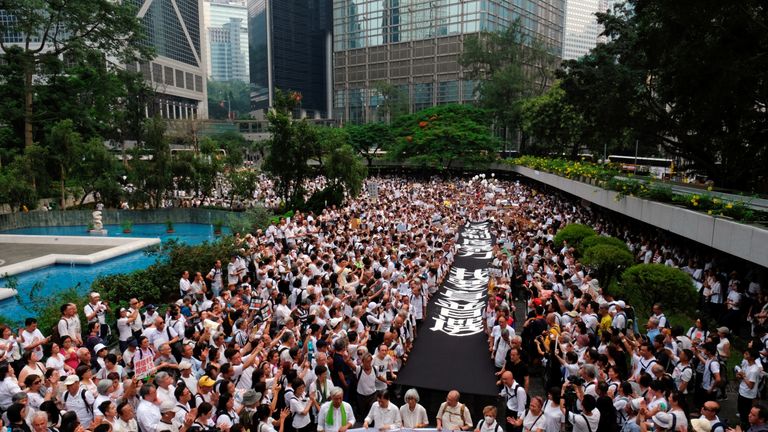 Deanne Ip, a veteran actress and singer, condemned heavy-handed tactics used by police on young protesters, who "have no guns" and were peacefully expressing their frustrations.
"They are young people and they are doing the right thing. Why are they being mistreated?" she said.
Ip and several others held a banner reading, "Support youth to protect Hong Kong" as they marched through a financial district.
The seniors also criticised police for their handling of a protest on Sunday in the Sha Tin district, which started peacefully but ended with dozens injured following violent clashes in a shopping mall.
A policeman had a finger bitten off and more than 40 people were detained.
Major protests have taken place in the past month against a proposal to change extradition laws in Hong Kong, which would allow crime suspects in the territory to be transferred to the mainland.
The bill is seen as a threat to Hong Kong's freedoms that were guaranteed for 50 years when China took back control of the former British colony in 1997.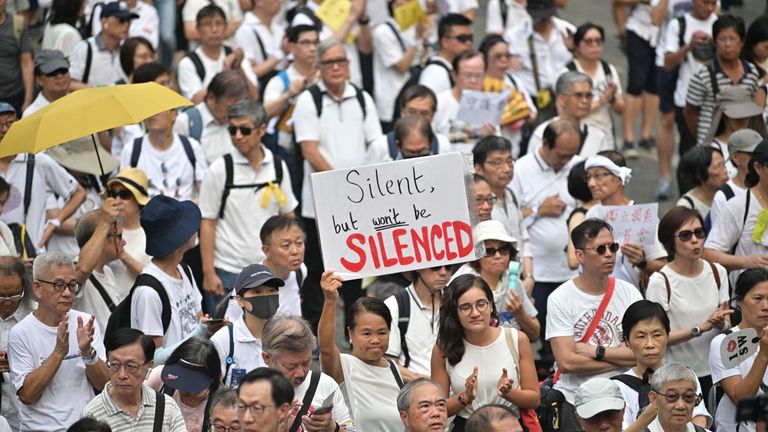 The demonstrations have swelled to include complaints about an influx of mainland Chinese to the territory, and claims local leaders are more responsive to the Beijing government than to the territory's people.
Hong Kong's embattled leader, Carrie Lam, suspended the bill and declared the legislation "dead", but it failed to placate the protesters, who have demanded her resignation.
:: Listen to All Out Politics on Apple Podcasts, Google Podcasts, Spotify, Spreaker
The senior citizens repeated demands for the legislation to be formally withdrawn, for the release of dozens of people who were detained and for an independent inquiry into alleged police brutality.
More protests have been planned which could cause further instability in the global financial hub.
Imran Khan 'shocked' by how Diana's death affected Pakistan | World News
Pakistan's prime minister Imran Khan says he was "shocked" and "amazed" by the effect Princess Diana's death had on people in his country.
He was speaking after meeting her son Prince William and Kate during their royal tour last week.
Mr Khan revealed how Pakistanis reacted with sorrow after the princess died in a car crash in 1997 while being pursued by paparazzi.
He told CNN: "I was touring my constituency when I heard of the accident, and I can tell you that the impact it had on the people shocked me.
"I mean, these were rural peasants. I wouldn't have even thought they would have heard of Princess Di.
"But when they heard of accident and her death… I was amazed at how Princess Diana had penetrated, even in these rural constituencies."
The prime minister also spoke to the Duke and Duchess of Cambridge about his path to becoming Pakistan's top politician, having first met the prince in the 1990s, not long after he started his party.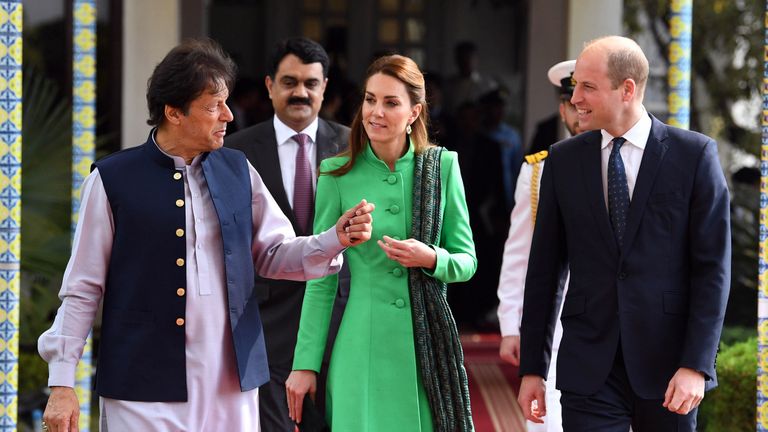 The former international cricketer said: "It's 23 years since I started my political movement and I assumed that it would be very easy, here's my party and I would go out and people would vote for me.
"Little did I realise what I would go through to get here."
Mr Khan met the royal couple on their five-day tour, during which they enjoyed a wide range of locations, cultures and occasions.
On the tour, a young girl at a government-run school said she was a "big fan" of the late princess.
William and Kate also went to the Hindu Kush mountain range where they learned about climate change and glacial melting.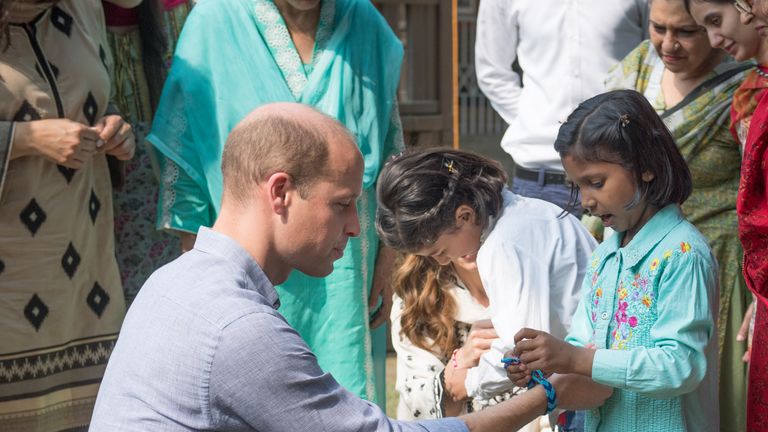 On Friday, they made an unexpected return visit to an orphanage, where a young girl presented the duke with a handmade bracelet.
William and Kate visited the SOS Children's Village for the second time in two days after their RAF plane, which was heading to the capital Islamabad, encountered bad weather and returned to Lahore.
The couple also painted with children from the orphanage, which houses more than 150 orphans.
Heavily armed fighters overpower police who captured El Chapo's son | World News
One of Joaquin "El Chapo" Guzman's sons has been released by security forces after they were surrounded by heavily armed cartel fighters.
Ovidio Guzman, who is accused of drug trafficking in the US, was one of four people discovered by the National Guard inside a house in the Mexican city of Culiacan.
But officials say the police then came under attack, and decision was made to retreat from the scene to protect lives.
Gangsters had set up roadblocks and were unleashing heavy automatic gunfire in the area, which has long been a stronghold for the Guzmans' Sinaloa cartel.
Security minister Alfonso Durazo said: "The decision was taken to retreat from the house, without Guzman to try to avoid more violence in the area and preserve the lives of our personnel and recover calm in the city."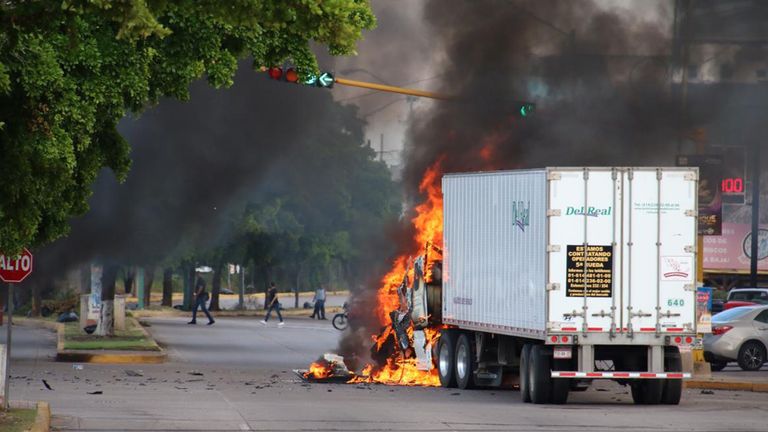 According to the minister, around 30 members of the National Guard were fired at from a house containing the drug baron's son.
El Chapo was jailed in July for his decades-long career of drug smuggling in central and north America.
The 62-year-old was sentenced to life plus 30 years at a supermax prison, where he is expected to die before he is released.
It is thought that Ovidio, along with his brothers, are still influential figures in the Sinaloa cartel, despite their father being imprisoned.
Ovidio is on a number of wanted lists due to his links with the drug cartel, according to local media.
Guzman's drugs cartel is believed to now be led by Ismael "El Mayo" Zambada alongside El Chapo's sons – and have all been accused of distributing drugs such as cocaine, methamphetamine and marijuana.
News of Guzman's potential arrest triggered more gun fights in the city between security forces and "heavily armed civilians", with stand-offs reportedly lasting several hours.
Riodice, a news service based in the city, said that armed security forces were heavily deployed after gunmen blocked entrances to the city with burning vehicles.
It also reports that the army were involved in the stand-off.
Cartel gunmen were reportedly driving around the city in trucks, with one armed with a mounted machine gun, while locals hid in supermarket aisles and took cover in the streets.
:: Listen to the Behind the Headline podcast on Apple Podcasts, Google Podcasts, Spotify, Spreaker
Police confirmed that, as a result of the fighting, several inmates escaped from a local prison. Some were later recaptured.
Locals were told to stay inside by the local governor, who also cancelled school classes for the day, amid the security concerns.
No deaths were reported by local police, but officials failed to rule out that some people may have died.
Cars set alight as protests erupt in Barcelona over jailed separatist leaders
Protesters in Barcelona have set fire to several cars during violent clashes with police.
At least four streets were blocked by burning containers as people set bins and vehicles alight near the interior department of the regional government in the city.
Police also reported clashes in Girona, a town near the French border.
Officers fired foam bullets and charged towards protesters as tens of thousands took part in demonstrations on Wednesday evening.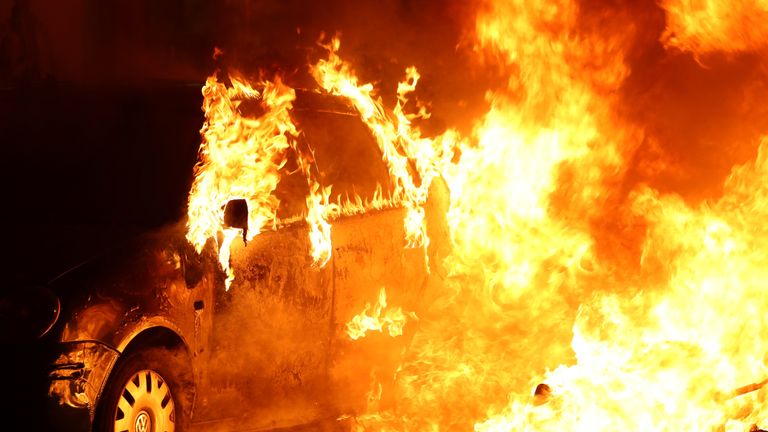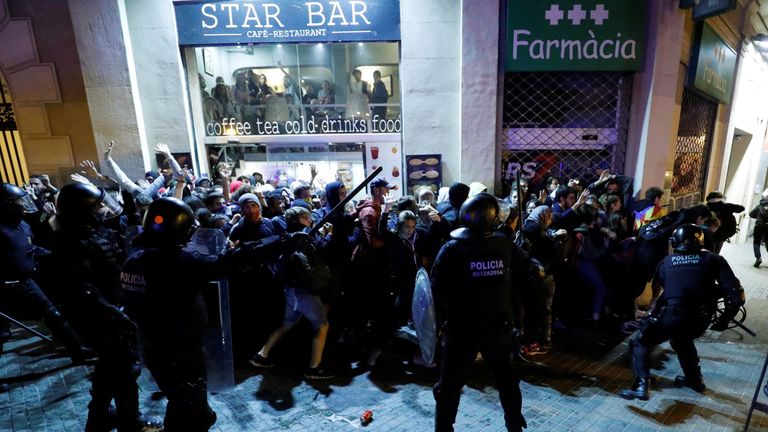 Demonstrators threw rolls of toilet paper into the air to signify that "there is a lot that needs cleaning up".
Some set up flaming barricades in the streets and hurled stones and firecrackers at officers.
Police said acid had also been thrown at them.
It is the third consecutive day of protests in the Catalan capital since the supreme court handed lengthy prison sentences to Catalan separatist leaders.
Nine separatists who led the 2017 bid for Catalan independence were jailed for between nine and 13 years.
Demonstrations began as peaceful protests on Monday but have since descended into violence.
Hundreds of police were on standby for further violence after more than 200 people were injured in clashes and 29 people were arrested on Tuesday.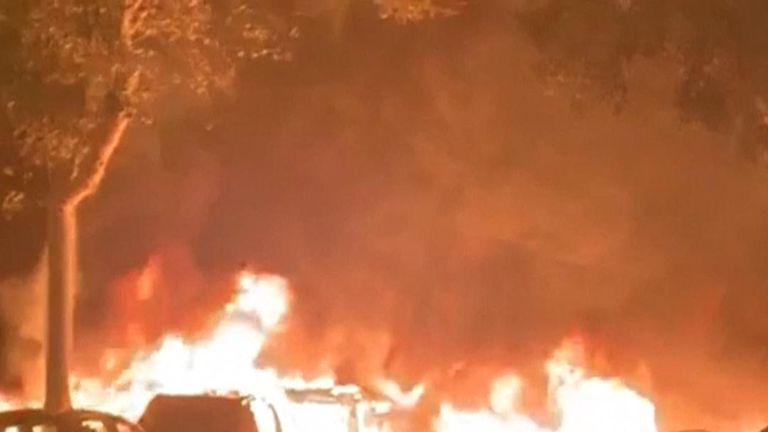 The Spanish government says it will not rule out any measures to provide security in Catalonia.
However Spanish caretaker prime minister Pedro Sanchez said authorities will respond with "firmness, calmness and unity".
He blamed "organised groups of extremists" for the unrest but said he would not be drawn into a game of an "ascending spiral of violence".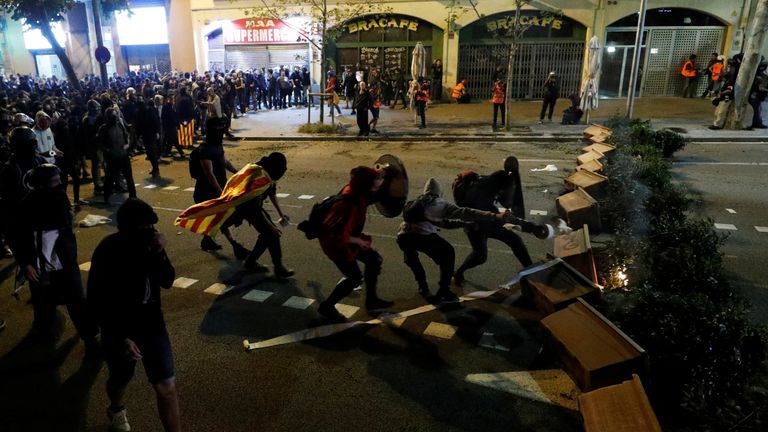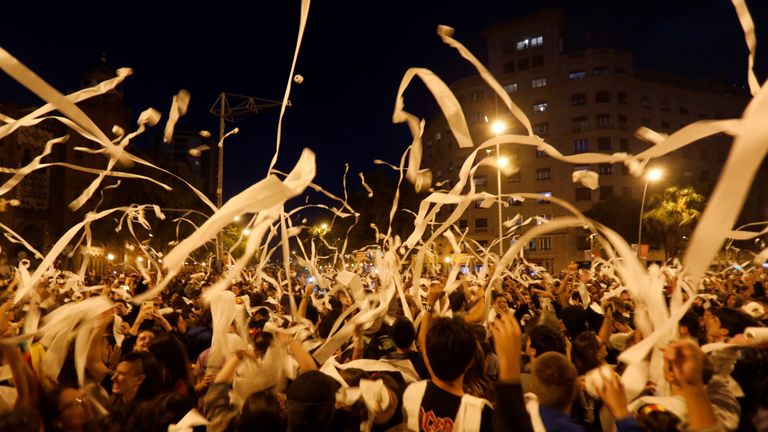 Earlier on Wednesday, Mr Sanchez met other leaders in Madrid to address the trouble in Catalonia.
Some leaders wanted exceptional measures to be taken in the region.
Pete Ferrer, director of Catalonia's regional police, said the street violence in recent days was "intolerable".
"The situation is very, very difficult, but the police have the means they need to deal with it," he said.
Further protests are planned in the coming days as separatists vow to continue pushing for independence.
About half of the region's 7.5 million residents support Catalonia's independence.