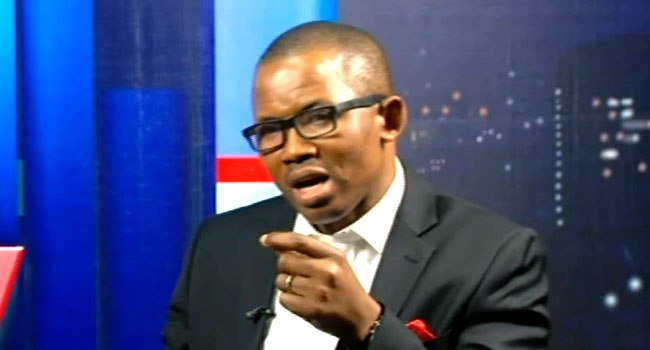 Rights lawyer, Kayode Ajulo has described the travel ban placed on some 50 high-profile Nigerians who the federal government has alleged to be "corrupt" as a draconian law targeted at the opposition.
In a statement he personally signed and titled: "Legality of the Banning Certain Classes of Nigerians From Traveling Pursuant To Executive Order 06", Ajulo expressed hope that the judiciary would do the needful as regards the executive order, which he likened to the Decree 4 of 1984 introduced by President Muhammadu Buhari when he was a military Head of State.
"One cannot but wonder if this latest draconian order is not targeted at perceived political enemies and members of the opposition.
"This Executive Order 06 is reminiscent of the infamous and draconian Decree No 4 of 1984 which was cruelly pursued and enforced by the incumbent President who was the military head of state at the time.
"Without a doubt the obnoxious decree was one of the sore points of that administration in which the basic human rights of Nigerians were thrown to the dogs.
"I earnestly believe and hope that the Court will rise up yet again to take up its position as the bastion of democracy."
Futher describing the move by the federal government as unconstitutional and an attempt to perpetrate a state of confusion, Ajulo argued that the executive order will infringe on the right to free movement of Nigerians which he said was against the constitution.
"The present attempt by the Executive to circumscribe the rights to free movement by certain citizens of Nigeria must of necessity go the way of the Executive Order 06.
"It is unconstitutional for a democratic government to seek to restrain a citizen from his right to free movement without an order of a court of competent jurisdiction.
"This is in contradistinction to the right of the appropriate security agencies to effect an arrest of a citizen pursuant to a properly issued warrant of his arrest with all the attendant duty to establish that the citizen has either committed an offence either singly or in conjunction with other persons."
The Senior Special Assistant to the President on Media and Publicity, Garba Shehu, in a statement, had said that the measure seeks to ensure "that all assets within a minimum value of N50 million or equivalent, subject to investigation or litigation are protected from dissipation by employing all available lawful means, pending the final determination of any corruption-related matter."