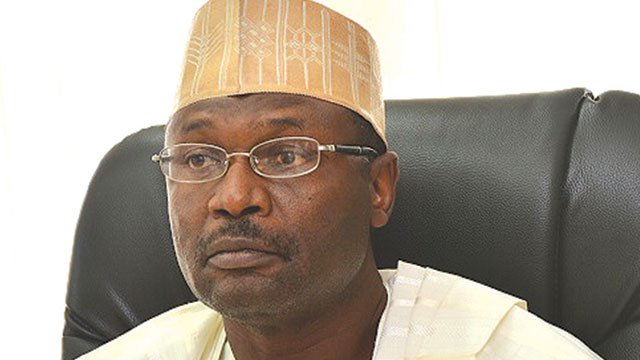 An Abuja Federal High Court on Wednesday ordered the Inspector General of Police, Ibrahim Idris to produce the Chairman of the Independent National Electoral Commission, Prof. Mahmood Yakubu.
The Justice Stephen Pam-led court ordered the police boss to arrest Yakubu and produce him during the next adjourned date of the court.
This followed the refusal of the INEC Chairman to obey the court's earlier order.
Justice Pam held that the INEC boss should appear before him to explain why he should not be punished for contempt of court.
The contempt proceedings were filed by Ejike Oguebego and Chuks Okoye, Chairman and Legal Adviser of the Peoples Democratic Party (PDP), Anambra State respectively.
A Senior Advocate of Nigeria, Goddy Uche SAN, had told the court that Mahmood deliberately refused to obey the order of appearing in court.
During proceedings, the trial judge had sought to know from Adegboyega Awomolo SAN, counsel to INEC Chairman, why his client was not in court.
Responding, Awomolo said, "My lord, I don't know where he is; if Goddy knows, he should go and bring him".
The judge repeated his question: "Chief, where is Prof Mahmood?"
Again, Awomolo said, "My lord, it is beyond my brief to produce the INEC Chairman in court. The court has issued a bench warrant against Prof Mahmood, so, let the IGP produce him in court".
Following the failure of the INEC Chairman to show up, the trial judge adjourned for continuation of the contempt proceeding and for the INEC Chairman to show cause why he should not be committed to prison for contempt.
Justice Pam noted that the order of August 1st was still subsisting and has not been set aside or discharged.
The court noted that counsel to the INEC boss said he did not know the whereabouts of Mahmood.
Consequently, Justice Pam ordered the police to bring the INEC chairman to court on August 14.