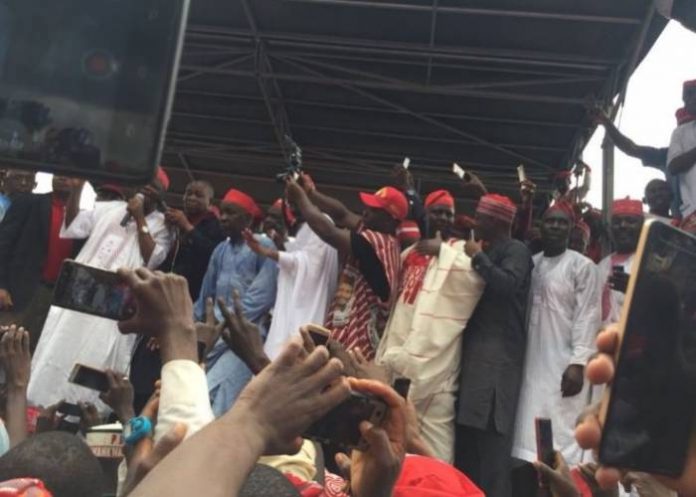 One of the contenders for the presidential ticket under Nigeria's main opposition party, the People's Democratic Party (PDP), Rabiu Kwankwaso, on Wednesday declared to run for the number one political seat.
The event which held at Chida hotel in Utako, Abuja, witnessed a massive turnout by his supporters from across the country.
The venue, which was filled to capacity was announced after the ex-Kano State governor was denied access to Abuja's Eagle Square after earlier approval by the authorities.
The facility managers of the Abuja International Conference Centre & Eagles Square, had in a letter on Monday said their reason for denying him the venue was to avoid disruption of "work flow" at the federal secretariat, a major hub of civil servants.
However, the massive turnout crippled a lot of economic activities around the Utako district of Abuja.
Many of the attendees at the event wore red caps in solidarity with Kwankwaso who is known for wearing a red cap on white attire.
Prominent amongst those at the event were former governor of Edo State, Lucky Igbinedion; national chairman of the Reformed All Progressives Congress (R-APC), Buba Galadima; former Kano State deputy governor who recently resigned, Hafiz Abubakar, and Members of the National Assembly loyal to Kwankwaso.
Kwankwaso told the tumultuous crowd the reason for the gathering.
"Today, I declare that I am going to vie for the office of President Federal Republic of Nigeria under the platform of the Peoples Democratic Party," the Senator said as he received cheers from his supporters.
"I stand on my honour to offer a paradigm shift in leadership. There is no gainsaying that all is not well with the polity. It is also clear that the same mindset that created and escalated the problems cannot be used in resolving the ongoing crises in our nationhood and national development," he added.
In his declaration speech, the former governor listed some critical aspects he intends to tackle, if elected.
These include security, economy, social challenges, infrastructure, human capital development and global competitiveness, education, research and innovation.
Other areas he listed are agribusiness, healthcare delivery, international relations, youth and women empowerment, national unity, cohesion and restructuring.
"I intend to offer positive change. Change has again become inevitable. To live is to witness changes because change is an inseparable part of living. Come May 2019, the narrative of helplessness, buck-passing, division, poverty, insecurity, and hopelessness must change to turn to a new dawn of confidence in building a one well restructured Nigeria.
"I assure you that while I do not have the prophetic power to predict the future, we certainly have in us the ability to create the future that we want.
"On this day, as I stand before you, I offer you a value-based leadership anchored on our national ethics as outlined in Chapter 2 of Section 23 of our Constitution.
"We will provide a leadership where everybody is free and equal; where Nigerians see themselves as Nigerians first and as Ibo, Yoruba, Hausa, Ijaw, Ibibio, Fulani, etc second; where citizens are self-assured and self-assertive; where they are confident and competent; where they want to do what is right no matter whose ox is gored. I want to lead a Nigeria where people are educated and exposed beyond the confines of their tribe, religion, linguistic group or place of birth.
"I want to lead a Nigeria where citizens respect their leaders, and leaders lead and forge a team to promote and protect the interest of all Nigerians.
"I want to lead a Nigeria where all are comfortable anywhere and on any positive issue can compete fairly with their peers without favour or discrimination. That is the kind of Nigeria we envision. We will abandon the failed relics of the past. We have all it takes to make Nigeria good and relevant for all," he noted.
Apart from Kwankwaso, other major PDP aspirants are ex-Vice President Atiku Abubakar, Governors Aminu Tambuwal of Sokoto and Ibrahim Dankwambo of Gombe, and ex-governors Sule Lamido and Attahiru Bafarawa.
Kwankwaso's experience as a former governor of the most populous state in Northern Nigeria is expected to be his major selling point.
He often claims credit for helping Buhari secure 1.9 million votes in the state in 2015. Although the president had always been popular in Kano where he enjoys massive support, he never got that much votes in the state until 2015.
Kwankwaso also helped Umar Ganduje, then his deputy while he was governor, to power in the 2015 elections. Both men have since fallen out with Ganduje, now governor, vowing to ensure President Buhari wins Kano overwhelmingly in 2019.
Kwankwaso once served as defence minister and was elected Kano governor on the platform of the PDP, but joined then-newly-formed APC in 2013 as part of the renegade 'newPDP' bloc.
He is one of the most influential politicians to defect from the APC since Abubakar left the party last November.
Perhaps in recognition of his popularity, President Buhari held a meeting with Kwankwaso a day before the senator defected to the PDP, in a last minute attempt to persuade him to remain in the ruling party. This however failed.
If Kwankwaso eventually secures the PDP ticket, that meeting with the president could turn to be the last time both men would be seen as political allies as Buhari is also expected to slug it out with a growing list of candidates who want his job in 2019.