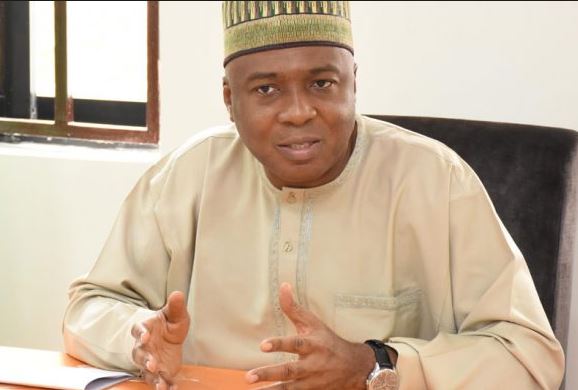 President of the Nigerian Senate, Senator Bukola Saraki has called on leaders of the All Progressives Congress, APC in Rivers state to respect Senator Magnus Abe.
Senator Abe is in a running battle with the Minister of Transportation, Rotimi Amaechi over the gubernatorial candidate ticket for the 2019 election in Rivers state.
Senator Abe's ambition has strained the relationship between leaders of the APC in the state who are now sharply divided.
Meanwhile, during a Thanksgiving reception organized by Senator Abe, the Senate President said Amaechi would not have become a Minister without Abe's influence.
Saraki who described Abe as a humble lawmaker said the Nigerian Senate is solidly behind the Rivers politician.
The Senate President also condemned the rally organized by the Minister, saying it is uncalled for.
According to him, "Senator Magnus Abe is a humble man and he exhibits that in his way of life.
"He is a loyal party man and I can tell you he played a huge role in the formation of the APC. I say this because we were in the 7th Senate together when the merger process started.
"If you look around you will see Senators from all the 6 geo-Political zones of this country and as the President of the Nigerian Senate I can tell you that this is the first time this is happening.
"Magnus Abe played a huge role during the selection of Ministers. You will not be in the Federal Cabinet without Abe. I know what he did.
"To now hear that another rally is holding somewhere else is not good at all. What is bad is. I thank God the Chairman of Party (Chief Davies Ibyiamu Ikanya) is here. You have a lot of work to do."