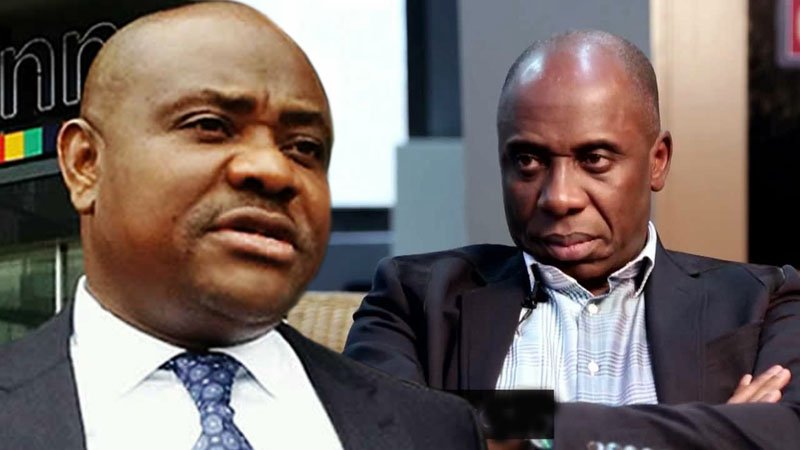 Rivers State Governor, Nyesom Wike has blamed his predecessor, Minister of Transportation, Rotimi Amaechi for the protest embarked upon by school pupils in Port Harcourt.
Some students of Comprehensive Secondary School Olanada at Rumuola area of Port Harcourt took to the streets to protest poor education and negligence they allegedly suffer from the Governor Wike-led administration.
However, speaking for the first time since the protest, Governor Wike said the protest was arranged by the Ameachi-led All Progressives Congress in the state.
Governor Wike stated that his administration inherited a rot of unimaginable rot in the Education Sector from the Amaechi government, adding that, "the Rivers State APC has descended to the lowest level by involving school children in politicking."
He noted that Former Rivers State Governor, Amaechi awarded contracts for 425 schools, but delivered only 170 schools, abandoning the rest of the schools after state resources had been committed.
"We feel so bad that people begin to play politics when they know that they caused the development crisis in the state. Like we have said, we are not here to give excuses. But they should be able to admit that they caused the problem.
"If they understand the rot that we inherited, if they understand what the last administration did to the state education sector, nobody will complain. We are working hard to correct the anomalies, complete the schools, build new schools and reposition the Education Sector.
"The immediate past administration had the spirit of demolition. They brought down schools, without any plans to rebuild them.
"Now we are going to publish the book compiled by the Economic Advisory Council of the Amaechi administration. Out of the 425 schools that contracts were awarded for construction, only 170 schools were completed. All the other schools were abandoned and we are completing them.
"When we complete any of their abandoned project, they engage in propaganda that the project had reached 90 percent completion," he said.