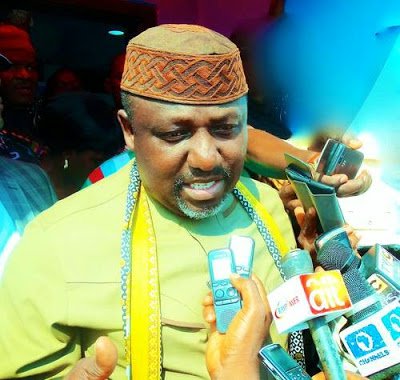 Governors elected on the platform of the All Progressives Congress on Friday said their mission to Daura, Katsina State, was merely to condole with President Muhammadu Buhari over the loss of two members of his extended family.
The Chairman of the APC Governors' Forum, Rochas Okorocha of Imo, stated this when he fielded questions from newsmen after a closed door meeting with President Buhari at his private resident in Daura, on Friday.
He dismissed media reports that their mission to Daura was aimed at convincing the President to seek re-election in the 2019 presidential election.
He said the governors also used the opportunity to commend the President for appointing Asiwaju Bola Tinubu as APC Chief Mediator.
The President had, last week, appointed Tinubu to reconcile aggrieved members of the party.
"We are yet to discuss that. That would be in next the meeting where we will discuss whether we want to support him to run or not.
"But for now, we came on the issue of the death of his two relatives and to commend him for action taken on Tinubu as a conciliator,'' Okorocha said.
Also speaking on the outcome of the meeting, Gov. Tanko Al-Makura of Nasarawa said they were in Daura to sympathise with the President on the involvement of his son, Yusuf, in a ghastly auto-accident and the death of his two relatives.
He described the appointment of Tinubu as APC chief mediator as a wonderful initiative by the President.
"After the condolences, we had some very intimate discussion that further bound our relationships and affinity together and I believe this is a continuation of our close association and support, loyalty and commitment to Mr. President's cause and Nigeria's cause,'' Al-Makura said