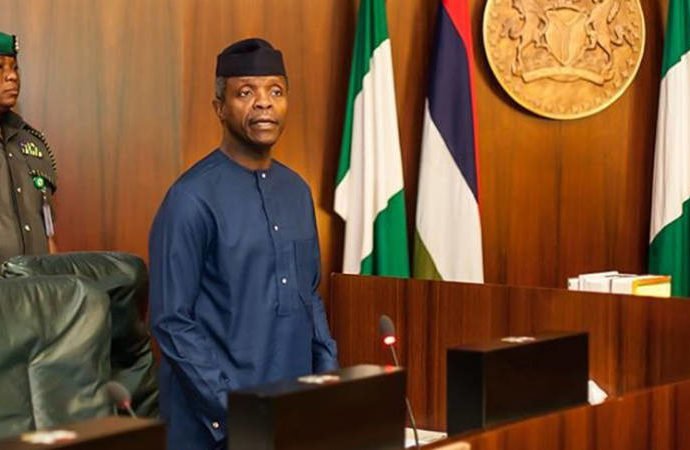 Acting President, Yemi Osinbajo on Tuesday fired Lawal Daura, Director-General of the Department of State Service (DSS).
Following the developemnt, a source in a chat with our correspondent, said Osinbajo took the decision "following events in the last 24 hours".
DAILY POST had reported that no fewer than 30 Senators gathered in the wee hours of Tuesday morning to finalize plan to impeach against Senate President, Bukola Saraki and his deputy Ike Ekweremadu.
They meeting was held around 12:30am at a location Abuja, the nation's capital.
The lawmakers allegedly met with Daura and All Progressives Congress (APC) national chairman, Lawal Daura.
As part of the plot, Senate Leader, Ahmed Lawan (Yobe North) will be picked as Senate President while Hope Uzodinma (Imo West) will emerge as his deputy.
But according to our source close to the presidency, Osinbajo was in the dark all along and "only heard news of National Assembly invasion like other Nigerians".
He said: "The sack of the Daura is within the powers of the acting President. Daura hobnobbed with party officials and some lawmakers as if he was answerable to them.
"What happened today was a breach; a total disregard for the Acting President. If anything had happened to anyone, it would have been on his head. People would accuse him of incompetence.
"The situation embarrasses the country too as some countries through their missions in Nigeria have complained to the presidency that they were worried about what was happening."
Osinbajo's spokesman, Laolu Akande announced Daura's sack.
He tweeed: "Acting President, Professor Yemi Osinbajo, SAN, has directed the termination of the appointment of the Director General, State Security Service, DSS, Mr. Lawal Musa Daura with immidiate effect.
"Mr. Daura has been directed to hand over to the most senior officer of the State Security Service until further notice."