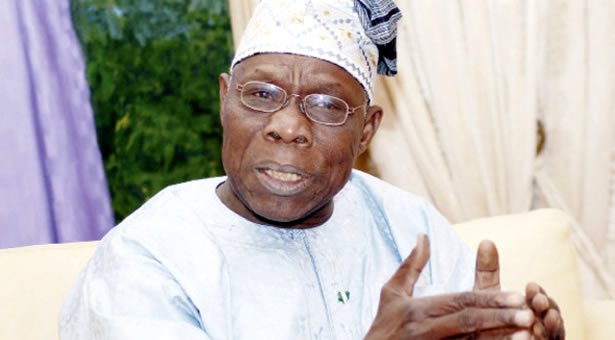 Former president, Chief Olusegun Obasanjo on Sunday opened up on the sacrifices he made in his quest to make Nigeria a better country.
Obasanjo said he sacrificed for the nation by fighting, "shedding blood" to defend the country during the civil war and even being sent to jail over a coup allegation he was innocent of.
He said this while hosting former Sokoto State Governor, Attahiru Bafarawa, who is one of the presidential aspirants on the platform of the Peoples Democratic Party, PDP, in Abeokuta, Ogun state.
The former president, however, assured that he would continue to make sacrifices for the betterment of Nigeria.
He said he had been threatened and intimidated because of his convictions for a better Nigeria, but said "they had all amounted to nothing."
Obasanjo urged Bafarawa to make Nigeria better if elected President in 2019.
According to Obasanjo, "The situation of Nigeria today is not the one any right-thinking Nigerian should applaud.
"And my own strong belief is that Nigeria deserves better than we have now. And we can get better than what we have.
"And so, you are to see what you can do, that is why you are aspiring to make Nigeria better than what it is today.
"Nobody who loves Nigeria will not want it to be better than it is today. I, definitely, have made personal sacrifices and I will make again.
"Talk of fighting in the war front and shedding of one's blood, or even talk of going to prison, because I believe in democracy.
"I went to prison for doing nothing wrong. I have also been intimidated and threatened. What would you do to intimidate somebody like me?
"Whatever you are trying to do to me, people have tried them to me in the past, and it amounted to nothing and it will amount to nothing.
"Because before I act, I pray to God to guide me and I think of Nigeria first, particularly majority of Nigerians who are underprivileged, whose situation we need to improve upon.
"If we do not act together as we should act together, Nigeria will not be what it should be, come 2019.
"Aspiration? Yes, but the objective must be clear. If the opposition starts going in different directions and pulling in different ways, Nigerian situation will not change.
"A population of 200 million, for us to continue to complain that things are not right, we are doing the same thing like we have done before.
"And if we keep doing the same thing, the result will not be different. If we want a different result, we must do things differently. And I believe we can do things differently."