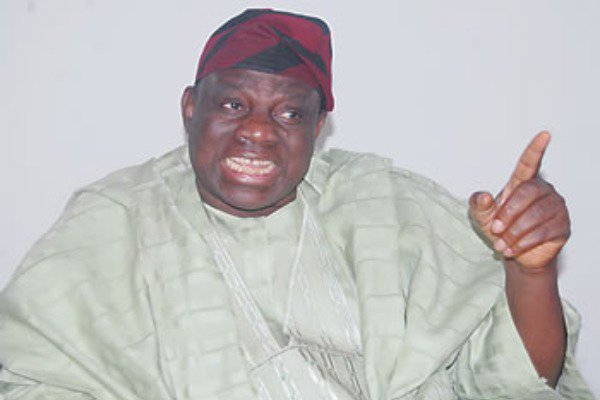 Former military governor of Katsina and Plateau States, General Lawrence Onoja has revealed his civil war memoirs.
Onoja, 70, who fought gallantly during the civil war, which lasted between 1967 and 1970, recalled his encounter with the Biafran soldiers.
The retired war hero, said his surviving the war was a miracle of God, noting that many of his friends could not make it.
Speaking with DAILY POST, Onoja, a native of Benue State, recalled how they would send cigarettes and beer across the water to some Biafran soldiers during the war.
He said, "Surviving the war was a miracle of God. A lot of Idoma officers, who were with me in Port Harcourtwere killed. I remember when they brought the dead bodies of George Lawani (younger brother to former deputy governor of BenueState) Col Shambe, a Tiv man, Francis Oluma, a native of Adoka here in Benue. I was very young.
"One day, I just received a call from the late Benjamin Adekunle (Black Scorpion) in front of his office. I could remember vividly that what was written on the steel helmet in front of his office was 'enter my office at the pain of death.'
"Adekunle posted me to meet my kinsman, Ignatius Obeya who was the then Brigadier Commander at Itu, CrossRiver State.
"At that time, you couldn't connect Port Harcourt from Calabar because there no road, you had to go through Aba, which was already held by Biafra.
"So, we had to connect through Igwenga to Abak, then we connected Oron before finally crossing to Calabar.
"I reported to Brig Obeya, Rtd and I was part of the operation from crossing Calabar to Itu through a river called Ikoto Okpora. I was made a brigade major to Obeya to ensure that the three battalions in the brigade were effectually controlled and commanded to fight the war.
"We were facing a place called Arochukwu across the water at the time. The Biafran were on the other side while the Nigerian troops were on this side. It was very funny, because every morning, we would wake up and talked to ourselves across the water. The Biafra soldiers would tell us, Gowon and Ojukwu are enjoying themselves in Aburi and we are busy fighting ourselves, please give us some food, we would then throw cigarettes and sometimes beer to them across the water
"But after at about an hour, we would start shooting at ourselves. I went through all this and came out alive, I think at 70, I would say I am a fulfilled man."