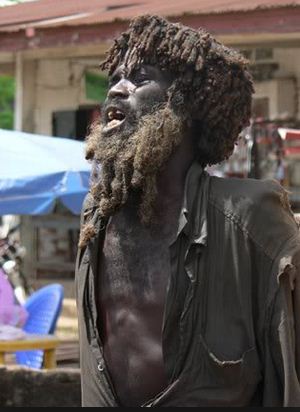 A man identified to be mentally deranged, Lekan Adediran, has reportedly stabbed his octogenarian father, Pa Lawrence Adediran, to death in Efon Alaye in Efon Local government Area of Ekiti State.
After killing his 80-year-old father, Lekan, 32, was said to have killed himself using the same broken bottle with which he stabbed his father to death.
The suspect's elder brother, Ojo Adediran, who reported the case at the Efon Divisional Police Station, said his brother was mentally infirmed and that he committed the offence at about 9:45pm on Monday.
Briefing newsmen in Ado Ekiti on Wednesday, the Police Public Relations Officer, PPRO, Ekiti Command, DSP Caleb Ikechukwu, said the corpses of the two victims had been deposited at the morgue of General Hospital at Efon Alaaye.
Ikechukwu revealed that the brother of the deceased-cum-suspect told the police that his late brother had a mental challenge, which he said the family had been battling to resolve.
He said: "Lekan's brother personally approached the police station in Efon to report how his brother killed their 80-year old father with a broken bottle and also killed himself after succeeding in his devilish act.
"Their corpses are presently at Efon General hospital for autopsy. However, the police had been able to maintain peace and orderliness in the town.
"We are not resting on the accounts rendered to the police by the victim's brother alone. We are still going to conduct investigations to ascertain the veracity of the claim and the reason behind the killing and the subsequent suicide option taken by Lekan", the PPRO stated.
Ikechukwu also revealed how some suspected cultists invaded two drinking joints in Ado Ekiti on July 29, and shot one Ayomide Adebayo, 23, and Sola Akinwande.
The police spokesman said Adebayo was shot at Oshodi street in Ado Ekiti the same day Akinwande was shot at a drinking joint in Ado Ekiti metropolis.
The PPRO added that the two were shot in the legs and are now being treated at the Ekiti State University Teaching Hospital, Ado Ekiti.
"We got the information at about 10.45pm, and upon investigation it coincided with the day some secret cults wanted to secretly bury a
man along Ilawe road," he said.
"We contacted our men in the Special Anti-Robbery Squad (SARS) who laid ambush and got the suspects arrested at their hideouts and are now being detained at the police headquarters where they are helping the police in their investigations."