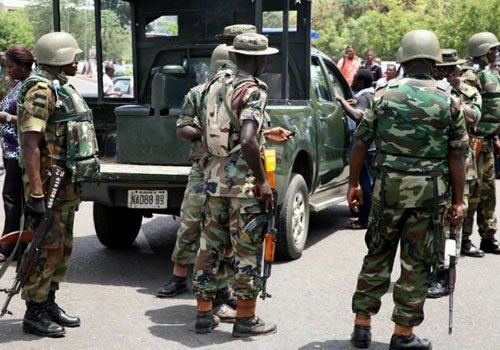 A members of a local vigilante group in Obadolovbiyeyi community in the Ikpoba- Okha Local Government Area of Edo State, Efe Igbnovia, has been allegedly shot dead by some soldiers.
According to a Punch report, a local vigilance group had in the early hours of Wednesday arrested some suspected herdsmen for alleged armed robbery on the Benin-Abraka Expressway.
Igbinovia was said to have been asked to watch over the suspects while his colleagues conducted a search for the fleeing members of the gang.
According to the report, a group of soldiers stormed the area and fired continuously.
The newspaper reports that the military men, who were said to have arrived in the community in a Honda with the number plate, AP 641 KTN, shot Igbinovia dead and freed the suspects.
Some angry youths reportedly blocked the path of a commercial bus conveying two of the herdsmen earlier arrested to the Benin Central Hospital for medical treatment before the intervention of personnel of the Nigeria Security and Civil Defence Corps.
One of the angry youths who gave his name as Henry Osemwengie, told the newspaper that the vigilante group had earlier arrested six herdsmen for robbery and took them to the Ogbekun Police Station.
Osemwengie said, "Two other herdsmen, suspected to be members of the gang, were later caught. Igbinovia was asked to stay with them.
"Before then, the police had been called to come to pick them (herdsmen) because that is what we usually do. Suddenly, a red Honda car with about four men in military uniforms and armed with AK – 47 rifles came and started shooting.
"Igbinovia shouted that he had been hit. By the time the other vigilantes returned, he was already down. The soldiers killed him and went away with the two robbers. Robbers, most of whom are Fulanis, usually operate there. They keep their cows by the roadside, block the road and start robbing."
The Commissioner of Police, Johnson Kokumo, confirmed the incident to Punch.
Kokumo said, "The herdsmen were alleged to have blocked the expressway. Two of them (suspects ) are with the police undergoing interrogation."
On the alleged killing of the vigilante by the military men, Kokumo said, "It is an allegation we are investigating. Actually, one of the vigilance members died in the course of duty."
Also, the spokesperson for the 4 Brigade Command of the Nigerian Army, Capt. Mohammed Maidawa, told the newspaper that Igbinovia was shot after he was mistaken for a robber by military troops deployed in the area.
Maidawa said, "Troops deployed in Ologbo for pipeline protection received information of a suspected armed robbery close to their location. They were mobilised to the scene and engaged armed men at the scene.
"Unfortunately, one person, who was later identified as a vigilante was killed. Preliminary investigation revealed that the vigilance group also responded to a distress call on the robbery. It was a case of mistaken identity. We are going to get in touch with the bereaved family."