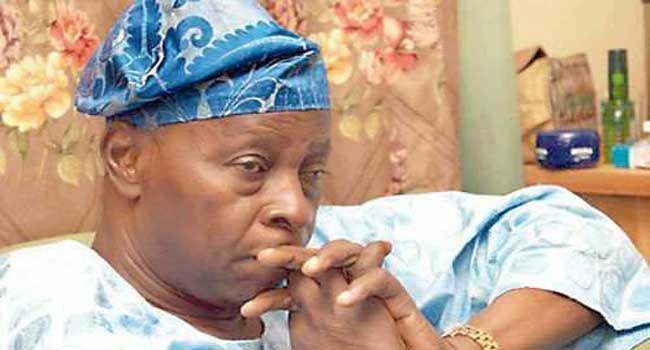 Former Secretary to the Government of the Federation (SGF), Chief Olu Falae, has urged Nigerians to give the Social Democratic Party (SDP) the opportunity to rule the country to offer "a better change."
Falae also urged the people of Ekiti State to vote for the party in the July 14 governorship election to provide quality leadership and give them better standard of living.
The SDP National Leader spoke in Ado-Ekiti at the weekend when a chieftain of the party, Dr. Gbenga Ayenimo, declared his intent to contest for the governorship seat.
Falae, who spoke through the SDP Chairman in Ekiti State, Mr. Dele Ekunola, described the party as a better alternative to both the Peoples Democratic Party (PDP) and the All Progressives Congress (APC).
He said the party embodied the social re-engineering and massive development agenda of its late presidential flag bearer, Chief MKO Abiola who won the annulled June 12, 1993 Presidential election.
Ayenimo said the 2018 governorship poll offered a good opportunity to liberate Ekiti people from bad governance, hunger, poverty, unemployment and hardship facing them.
The doctorate degree holder in Applied Chemistry who is based in Australia described the SDP "as a party with very long and sustained history of welfarism and an offshoot of the political family of our late sage, Chief Obafemi Awolowo."
He said: "My desire to fly the SDP in the governorship election is as a result of my conviction that the party is the only platform that can sustain the development and progress of our dear state, Ekiti.
"I am committed to the four cardinal programmes of the SDP, that is, electricity, for all, jobs for all, food for all, and zero tolerance for corruption.
"I am here to offer myself to the service of Ekiti State and its people to provide political, economic and social developments and stability, through exemplary leadership, good governance, transparency and responsive governance."