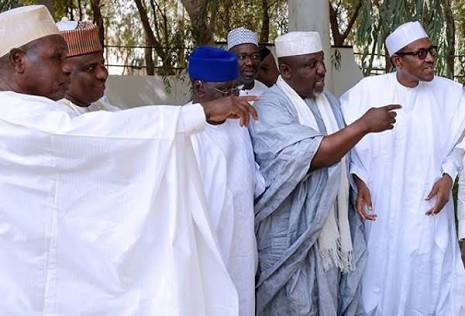 The All Progressives Congress,APC, Governors' visit to President Muhammadu Buhari in Daura has raised concerns among Nigerians.
Recall that the APC governors on Friday visited Buhari in Daura 
The governors had explained that the reason for the visit was to commiserate with the President who recently lost two members of his extended family in Daura.
Present were Chairman of the Governors' Forum and Zamfara Governor, Alhaji Abdulaziz Yari; Rochas Okorocha (Imo); Abubakar Muhammed (Bauchi); Kashim Shettima (Borno); Abiola Ajimobi (Oyo); Aminu Masari (Katsina) and Malam Nasir El-Rufa'I of Kaduna State.
Others were Gov. Badaru Abubakar of Jigawa, Abdullahi Ganduje (Kano); Godwin Obaseki of Edo; Yahaya Bello (Kogi); Atiku Bagudu (Kebbi); Abubakar Sani-Bello (Niger) and Tanko Al-Makura of Nasarawa State, while the governors of Benue, Osun and Ogun were represented by their deputies.
However, this stirred up criticisms as some Nigerians,politicians, pressure groups queried the time of the visit amid killings in some parts of the country, especially that of Zamfara.
They condemned Buhari-led government, saying their priority is to attain power in 2019, and not value for human lives.
Recall that a second Republic lawmaker , Dr Junaid Mohammed had condemned Buhari and State governors over their insensitivity to killings in Zamfara State.
The Northern elder statesman said the priority of the Buhari-led government had been revealed following the All Progressives Congress, APC, governors' visit to Katsina despite killings in Zamfara. 
Here are some comments:
@favour "These men have no sense of soberness in regard to the state of the nation. They are even smiling and posing. My goodness, how did we get here
@ezek "Why are we bordered, their oga on top has thought them a new act of leadership. Has PMB being to Benue to mourn with them?
@aliyu "Look at the state governor where it all happened just grinning. This is stupidity at it's peak!
@baronvon "Human life counts for nothing in Nigeria because the so called rulers (not leaders) are vampires. Look at them grinning from ear to ear the horrible news of the Zamfara massacre notwithstanding
@Aldavisona "It appears these guys feed on human blood hence they don't care when people are killed daily
@yungbilly "You cursed Nigeria with bad and evil leaders.the zamfara state http://Gov.is all smiling despite the killings in his state.we don't value lives in this country.
@FriChi "They are bunch of sycophants and have failed to keep to the terms of the social contract they entered into with the citizens
@Entreprisenugget "Actions they say speak louder than words. The message they are passing is quite clear & Nigerians should better wake up; Nigeria can burn they care less as long as 2019 agenda is not threatened. God help Naija.
@Anyanwuvictor "They people are all laughing while Nigeria is burning and the are all smiling posing for a picture which they are the people that will come out and speak to the people and the will listen that is very bad for a young government
@Nikita These men only care about two things, their stomach and their political career, however PDP should by all means bring out a viable candidate like Donald Duke or someone else and not the likes of Goodluck Jonathan whose failure brought in buhari in the first place
@Ehimotor "These are the people that promise Nigerians, security, jobs, electricity, and change. Nigerians should be wise enough to know APC are after their own interest and we are ready to show them the exit door come 2019.
@Kmrs400 "The worst of it all is that the stupid Zamfara state governor is among them shining his dirty teeth. What a SHAME we have under this useless hyenas called @APCNigeria
@Wallace "Do you know daura in kastina is after zurmi in zamfara?Do you know that you will get to Zurmi before daura? But they decided to go to daura.