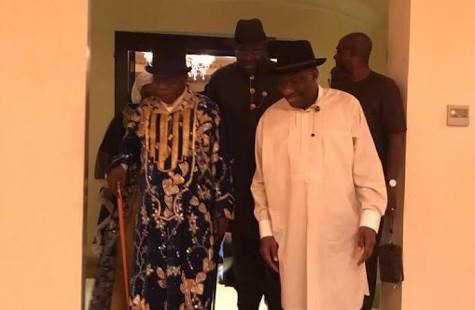 Former President, Olusegun Obasanjo's visit to ex-President Goodluck Jonathan on Friday, has raised concerns among Nigerians on social media.
Obasanjo visited Jonathan in his country home, Otuoke, Bayelsa State during his two-day visit to the state.
Although reason for his visit was not stated, some Nigerians are saying the meeting is related to the forthcoming 2019 election and plans to oust the All Progressives Congress, APC, government.
They issued warning to Jonathan to be wary of Obasanjo's moves, querying why Obasanjo who made him lose the 2015 election should be welcomed.
Here are some comments:
@sowumi "Obasanjo is simply looking for idiots that will fund his coalition.
@nnadozie "I think, Obasanjo has now seen the difference between GEJ and PMB? They say that when a woman marry two husband, before she can appreciate the first husband. I believe, he came to ask for forgiveness?
@kingsley "Same obasanjo whom turn his back on u when u were d presido is visiting ur home today? He Also dump PDP cos of u. Haba my gentle GEJ plz be careful with that man. We never know what he's mission is
@sylvester "Goodluck Jonathan is a good man with a very large heart to accomodate all manner of persons, this the type of people Nigeria need as leaders, be carfeul whenever you are dinning with OBJ better use long spoon for safety
@gbenga "A rejected stone who later became a chief corner stone…. Good Luck Jonathan we the Nigerian youths we still believes in you Sir.One person, one vo
@innocentrz"When will they leave the seat for the youths. They don't have Nigeria needs. Let the youths implement their young ideas and move the country to the next level.
@akindeleolunloyo "2019 political realignment and maneuvering. But hey, the objective of politics must not be to punish the poor as we have continually witnessed. Hopefully, this august meeting is in the best interest of the downtrodden; the several millions of Nigerians living in abject poverty.
@arcnest "OBJ being with GEJ doesn't mean he's back with PDP. Watch out!Obasanjo is part of Nigeria's PROBLEM Sha! he will just be test running people into Government. What's this meeting about? I thought ex pres. Jonathan was a political foe
@lixicota "They are planning the downfall of APC and our fulani colonist presido
@uznaija "The master of d game OBJ is at it again,No permanent enemies but interest! We are watching but @MBuhari coming for second term? God Forbid!
@adamu "The pioneers of Corruption in Nigeria… Grandpa & Grandson!
@francis "This is the Man who made you to lose power in 2015, yet you welcome him into your home. It shows once more again, you are a gentle Man to the core. But be careful and watchful.
@jtown "Nigerian gutter politricks. These duo were in a cut throat competition in 2015, now they're seeing each other again-probably to play gullible Nigerians again.
@chinedu "In politics.. No permanent friends,No permanent enemy… Hope is for good of Nigerians
@christio " A step in the right direction, let hope to would reach an accord to flush out these hopeless administration. We need total overhaul.