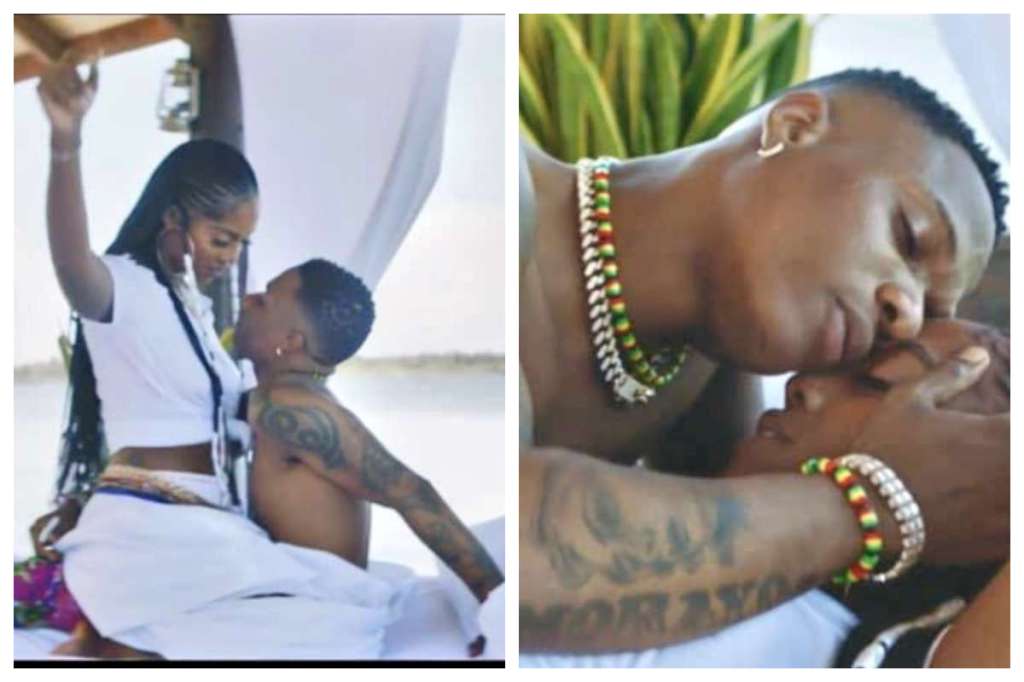 Popular Nigerian singers, Wizkid and Tiwa Savage have again stirred reactions from Nigerians on social media following their new music video dominated by explicit sexual scenes.
The video captures a shirtless Wizkid in bed singing as an erotically dressed Tiwa Savage romances him and they acted out two lovers in bed.
This has sparked a huge debate online as to whether the two are actually in a romantic relationship or not. Teebillz was also dragged into the debate.
DAILY POST recalls that Tiwa's estranged husband, Teebilz had described Wizkid as his little brother and therefore cannot have sex with his ex-wife.
He, however, urged anyone with evidence of Tiwa and Wizkid's sexual relationship to bring same forward.
Here are some comments gathered by DAILY POST from Twitter:
@Ogbenidipo "Except you don't like good thing and you like being unfortunate lmao, the chemistry, and physics between Tiwa and Wizkid is sweet. Forget say one thing one thing.
@Ijebubadoo "Tiwa can be with whoever she pleases. A relationship isn't an ownership, once a person leaves you & decides they owe you no loyalty anymore, you have to stop feeling entitled. Whoever they proceed to be with, can never be disrespectful to you because you're not entitled anymore."
@ Justdoit9ja "I think Tiwa stoop so low to this fever video vixen for Wizkid.. Girl you don pass this level na probably she might be cooking for don jazzy and all while she was married to Teebillz. Yet we all blamed him for everything that happened then."
@Babygiwa "I like the Fever video, it was intentional and very necessary especially as he is just coming from a place of bad energy surrounding him."
@aoasuni "You see, Nobody should come here on this Twitter and tell us Wizkid and Tiwa are not knacking. I don't care if people are saying it's stunt. In every lie, there's an iota of truth.'That said, the chemistry between them looked real and I approve of how Tiwa was ministering to Wizkid. Everywhere was indeed stew."
@TheUchay "The Bestie relationship between Wizkid and Tiwa is the type I want .See romance everywhere in this video."
@KessGH "Just because you see WizKid and Tiwa flirting in a music video, you think they have an affair in real life. It is just like saying Kanayo o Kanayo is a ritualist because you see him do that in movies."
@Olumidetweet "This video is so unfair to Teebillz now, how the guy go cope with this one now? Wizkid and Tiwa."
@digitaldidan "Tiwa Savage and Wizkid are making things official for you all who like teaching him how to be a parent his ex's kids. This is beyond just entertainment."
@Adesiyandoyin " I don't like defending patriarchal princesses against misogyny, but Tiwa should be able to do whatever she likes with her body or brand."
@Juwon_vybz "If you were in Teebillz shoes, You'd probably be contemplating suicide after what Tiwa and Wizkid did."