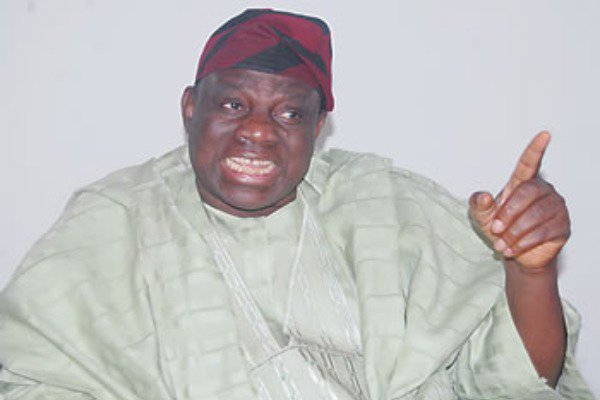 Former military governor of Katsina and Plateau State, Gen Lawrence Anebi Onoja has stated that Nigeria needs another 'iron leader' like late dictator, General Sani Abacha.
Onoja said the situation in Nigeria needed a man with 'iron fist' so as to save the nation from total collapse.
Speaking exclusively with DAILY POST on Tuesday in his Abuja home, the elder statesman, who would clock 70 on Friday, lamented that it was so sad Nigerian leaders were leaving the country worse than they met it.
The former Principal Staff Officer to the late Abacha said Nigeria was now a lawless nation that a man could stock N2 billion in his room and would walk freely on the streets without being arrested and forced to face the law.
He said, "He (Abaccha) was an effective leader, I keep telling people this. You know Abacha was the one who built the national hospital. Do you know under Abacha, dollar was N85 for five years under the advice of the late Prof Aluko?
"Do you know that under Abacha you don't have to go to America or UK, you would have to look towards Russia or China because he felt the Americans were cheating us? Apart from the fact some overzealous staff were doing certain things which he didn't know about, I would rate him high above those who had ruled us.
"We need a man like that, we need a no-nonsense man like him. Nigeria was once described by an expert as a lawless country and I agree with him.
"It would interest you to know that there are three ingredient of democracy, one is patriotism, the other is rule of law and accountability but none exists in this country,
"People don't account for money being given to them. People think about their family and not the country they are elected to serve.
"If you go to countries like Indonesia and China, their founding fathers used iron hands.
"You can't lead a country where there is no law. Where people would keep two billion in their house and nobody is saying anything.
"I think Nigeria needs a man with iron hand like Abacha. This is my personal opinion, not because I served under him but because I think this country needs a man with hard-fist," the soft-spoken British-trained infantry general said.