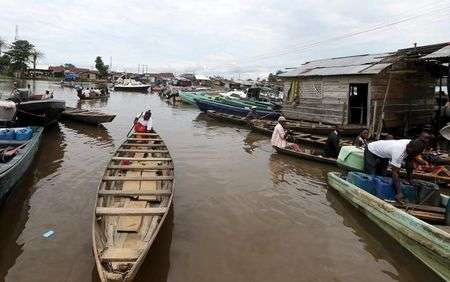 A Niger Delta Group under the auspices of the Ijaw Peoples Development Initiative, IPDI, has accused the Nigerian Military of harassing indigenes and residents of Beneath Community in Warri South-West Local Government Area of Delta State.
The group also claimed the military had also laid siege and ransacked the Community since Tuesday and Wednesday February 13th and 14th.
IPDI National President and Spokesman, Messrs Austine Ozobo and Daniel Ezekielmade, respectively, the accusation in a statement signed and made available to DAILY POST in Warri on Thursday
The group called on the Delta State Governor, Arthur Ifeanyi Okowa and his Deputy, Barr. Kingsley Otuaro to prevail on the military to stop further harassment of the people in the Community.
The group stressed that Beneath was a peaceful and law abiding Ijaw Island in Delta, just as it maintained that panic had engulfed residents of the Community as many were said to be trapped in the forest.
Part of the Statement read: "It is pertinent to note that there has been constant military harassment of Beneath community over time, and we have been informed that an attempt to evacuate and demolish the community is ongoing as cranes and swamp Bucky had been deployed by the military.
"We got a distress call on the 13th and 14th Feb,2018 from the residents, crying aloud over another military siege. They lamented that the military refused to disclose the cause of its continues harassment in the community.
"The military came on 13th and ransacked Beneath Island and chased away all residents and left. Again on the same night, they came, invaded and broke into stores and ransacked homes of fleeing residents till 14th.
"It is obvious that a peaceful community is being invaded by trigger happy military. Our source said the military is threatening to burn or demolish the community. Many residents have abandoned their homes and now trapped in the Mangrove forest.
"We condemn such military operations, Beneath is a law abiding community with no records of militant activities over time. We do not believe that invading law abiding Niger Delta communities is the only known tactics of fighting crime if there is any such case.
"We are still not convinced that Nigeria military does not know what is called tactical or strategic intelligence gathering in crime fighting. Punishing innocent people for the sin they do not know is cruel and provocative.
"I am equally disturbed, whether human rights exist in Nigeria. Despite the chorus of right abuse all over the country, the Nigerian government and its security outfits have not deemed it fit to end such ugly career.
"It is our appeal that military should not turn Beneath Island as a training or a battle ground and that any attempt to evacuate or demolish Beneath community will be resisted. It is our advice that the military should exercise restrain in their operations if they are not meant to witch-hunt Niger Delta region. We will take legal action against Nigeria military if they throw caution to the wind.
"It is our candid call that Delta state governor, Senator Ifeanyi Okowa, his deputy Kingsley Otuaro, the commander of the joint Task Force and other well-meaning leaders should call the military to order to avoid distortion of the existing peace in the country".