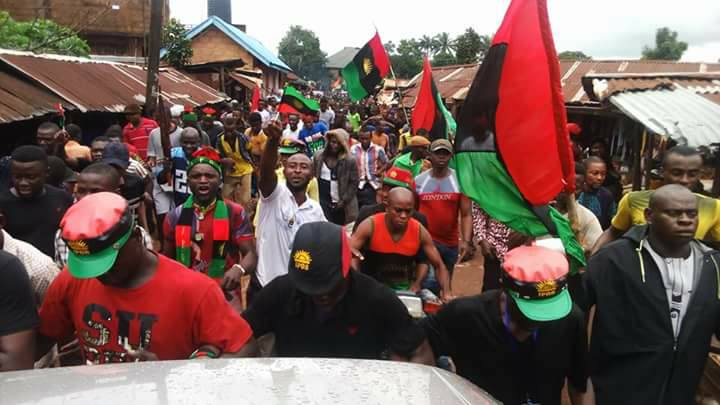 The Indigenous People of Biafra, IPOB, has called on the federal government to set free its members in various detention facilities across Nigeria if it is not ready to prosecute the matters instituted against it.
IPOB in a press release made available to DAILY POST, signed by the media and publicity secretary of the group, Emma Powerful said the missing case file of its leader, Nnamdi Kanu at the Appeal Court and the lackadaisical attitude of the federal government towards all court matters in the country involving IPOB was enough indication that the government was unwilling to pursue the matters.
"With ongoing moves by Nigerian Government to frustrate, through frivolous applications and adjournments, all pending cases involving IPOB in various courts within and outside Nigeria, we the Indigenous People of Biafra (IPOB) think that the time has come for this Buhari regime to release those held illegally in detention centres and prison all across the country.
"It is unheard of in the history of the world that a government is seen to be running from their own courts and afraid of legal processes they themselves instituted against a group they labeled a terrorist organisation.
"Normally a terrorist group or unlawful society would not want to undergo public legal scrutiny but in the case of IPOB we have offered and have taken this Buhari regime to court to prove that we are a peaceful organisation pursuing our inalienable right to self-determination.
"This Buhari administration is yet to convince the world in an open court of law which part of IPOB right to self determination as presently exercised, is in breach of any known law of the land. It is the Buhari regime that is behaving like terrorists by failing to appear and doing everything they can to frustrate and delay ongoing cases so they won't be cross examined under oath in an open court," he said.
IPOB said till date, the Nigerian government had consistently failed to produce a single witness to testify on their behalf or corroborate their wild accusations against it.
lt said that since over two years of bringing charges and amended charges against its leader, Kanu, alongside Benjamin Madubugwu, David Nwawuisi and Chidiebere Onwudiwe, and numerous other Biafrans detained across Nigeria on charges of treasonable felony and conspiracy to commit treasonable felony, the Attorney General of the Federation and DSS have not produced a single evidence or material witness to substantiate their allegations that IPOB activities is in any way illegal.
"Instead each court appearance has been turned into a drama session by the prosecution who will either pressure Justice Binta Nyako to adjourn on a flimsy excuse or they simply amend the charge so the case with start afresh.
"Perversely, this abuse of court process has been sanctioned by the Nigerian Judicial Council (NJC) because of their failure to provide adequate protection for their judges handling IPOB cases, from the intimidation of DSS and other government agencies.
"For example, EFCC has conveniently arranged for the ongoing corruption case against the husband and son of Justice Binta Nyako, the presiding judge, to be heard in the same court building and on the same date she hears IPOB cases.
"This is a way of pressuring her to lean towards government directive on the path the case should take or else her husband and son will be convicted," IPOB alleged.
The group called on Attorney General of the Federation to, as a matter of urgency, stop this ongoing persecution of IPOB because the more they continue to arrest, detain, charge and adjourn and postpone cases at will, the more they make themselves the laughing stock of the legal world.
‎