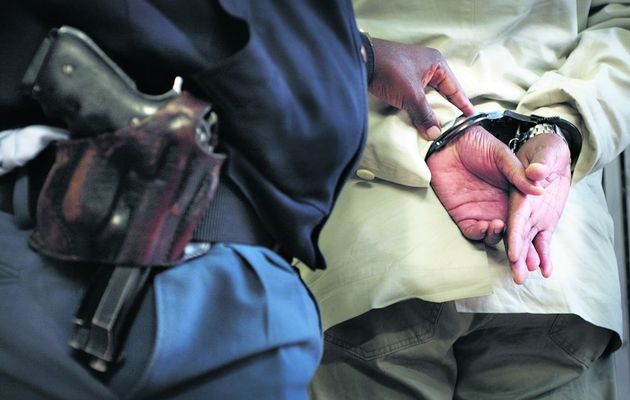 The Ogun police command has arrested a married man, Segun Oluwole, for alleged murder of his lover's father on Olaoluwa Street, Oluwo, in the Ope Ilu area of Ogun State.
The victim, Alhaji Mukaila Afolabi, who was hypertensive, gave up the ghost after a clash with Oluwole over a fetish concoction placed in front of a shop.
It was gathered that the fight ensued on Sunday after his lover, Nasifat, a tailor, saw a small pot of fetish concoction in front of her shop on Olaoluwa Street.
She alerted her father and brother to the concoction. They accused Oluwole of the act.
As the suspect was driving by in his car, Afolabi allegedly flagged him down and asked him to disembark to remove the concoction.
The matter took a turn for the worse as Afolabi allegedly whisked his lover's father away in his car, which caused highblood pressure and triggered his death.
Narrating the incident, one of the deceased's children, who pleaded anonymity told Punch "My father was still halfway into the car when he zoomed off, taking my father – who hanged halfway in and halfway out– with him. I took a motorcycle and traced them to the Jafar area, where he stopped. By that time, my father was already breathing heavily as a result of the danger he had exposed him to. He was hypertensive.
"Eventually, the man (Oluwole) returned to the shop with my father and removed the fetish concoction. We wanted to beat him up, but my father cautioned us. He suddenly slumped and went into a coma. We rushed him to a hospital where a doctor told us that the trouble he experienced had worsened his health condition. He did not survive it," he said.
The case was later reported at the Agbado Police Division, and a police team, led by the Divisional Police Officer, CSP Sunday Omonijo, arrested the suspect.
However, 46-year-old Oluwole narrating the incident denied placing the fetish concoction at the shop and beating his lover, saying he removed it to let peace reign.
He said the disagreement between him and Nafisat had been resolved before the incident as he beat his girlfriend "just once" because she embarrassed him in public.
He said, "I import cars from Cotonou, Benin Republic. Nafisat and I began the relationship two years ago and it was going well. I used to visit her in her rented apartment. At a point, she suggested that we should be living together. I paid the house rent and her children's school fees.
"We had a disagreement over sex in December and we settled it. While I was driving along her shop on Sunday morning, she, her brother and father stopped me. They said I placed a pot of fetish concotion in front of the shop. I said no and ran away from them. The father sat at the passenger's side of my car. I drove him to Jafar and stopped. He kept mounting pressure on me to go back to remove the sacrifice. I removed the pot and smashed it on the floor to prove my innocence.
"His children beat me up. He entered his car parked by the roadside and started gasping. They rushed him to a private hospital and I followed them. The doctor said his Blood Pressure had gone up seriously. There was no sign of violence on his body."
On the other hand, Nafisat said the suspect's claims were untrue, adding that she was hypnotized into the relationship.
She said, "We knew each other about 10 years ago. My shop is next to his mother's shop. He asked me out, but I told him I was not interested in a relationship with him. It was about a year ago that we started dating each other under some circumstances I cannot explain. He usually beats and harasses me. Recently, I came to my senses and told him to let me be, but he refused to leave me. He does not pay the rent and my children's school fees."
The Ogun State Police Public Relations Officer, ASP Abimbola Oyeyemi, confirming the incident, said investigations into the matter was still ongoing.
He said, "It is not a case of an accident; it is a pure case of murder. The Commissioner of Police has directed that the case should be transferred to the Homicide Section of the State Criminal Investigation and Intelligence Department, Eleweran, for further investigation and prosecution."