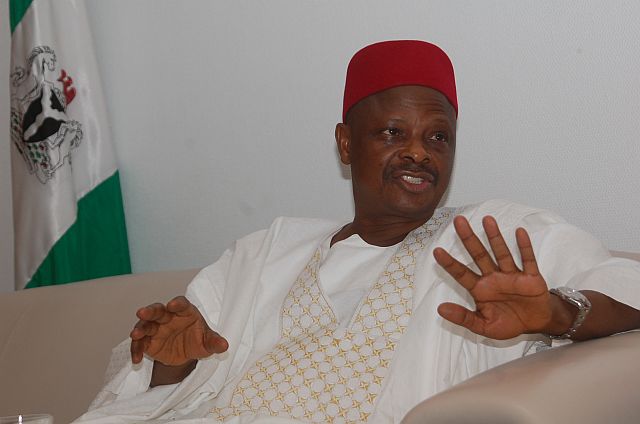 A former Governor of Kano State and Senator representing Kano Central Senatorial District, Rabiu Musa Kwankwaso, may dump the All Progressives Congress (APC).
He is said to be waiting on the outcome of peace moves initiated last week by President Muhammadu Buhari, to resolve intra-party crisis in some states.
The reconciliation committee is headed by former Lagos state governor and APC national leader, Bola Tinubu.
Recall that Kwankwaso last Thursday in Anambra declared his interest to contest the 2019 election.
In a meeting with leadership of the Kwankwaso Movement, and the Hausa community in the state, the lawmaker listed incessant killings and economic meltdown as what informed his decision.
A source in his camp gave some of the reasons that made Kwankwaso to conclude that now is the best time to leave the APC.
He alleged that the presidency had displayed partiality in the crisis rocking the Kano APC chapter and that the politician no longer feels the party needs him.
"Let me give you two instances. The APC went to invite a former PDP Senator Basheer Lado; he joined last month. Lado, represented Kano Central from 2011 to 2015, but Kwankwaso defeated him during the last election.
"What they have done now is to offer him automatic ticket to return to the Senate in 2019. We have eyes and ears everywhere and already have the details of the deal they agreed before Lado left PDP.
"What this development means is that even if Kwankwaso decides go back to the National Assembly, the presidency, the APC and Kano government won't allow him because they now have a candidate.
"Another instance is the rally they forced Kwankwaso to shelve. When Lado declared for APC, they shut down the Sani Abacha stadium in Kano on January 27. The police and others didn't asking him to postpone his rally.
"Lado was received by Deputy National Chairman, Segun Oni. President Buhari sent a letter and said he would have attended but that the date coincides with AU event he traveled for. Governors, many office holders, top party members were there.
"But when a former governor and sitting Senator wanted to meet his people in his home state, they said there will be violence. This is a man in the same party with the President of Nigeria and the incumbent Governor.
"The writing is clear enough. All his friends and followers have been telling him for a long time to leave APC. But as someone who believes in exploring all options, he keeps say telling us to 'calm down'. He gets more uncomfortable by the day and I think he will make up his mind soon".
The source further confirmed that the PDP hierarchy has been inviting Kwankwaso "to return to the fold since last year".
It would be recalled that Chairman, PDP Board of Trustees (BoT), Senator Walid Jibrin, last month, while addressing a PDP youth group, Ward-To-Ward during a courtesy visit, hinted that the party would soon receive some former chieftains.
"We are also expecting a big return of some of our former governors, our National Assembly members and very renowned party followers."
"We are therefore calling on the Senate President Bukola Saraki, Rabiu Musa Kwankwaso and all our former legislators who have left this party to come back quickly".
On whether Kwankwaso has fixed another date for his Kano trip, our source said said that he may use the rescheduled rally to announce his exit from the APC.
Kwankwaso, himself, had confirmed that he would hold an "impressive homecoming" rally soon.
Speaking on his cancelled trip, days after he met with vice president, Yemi Osinbajo, he said: "The retreat of a ram does not mean cowardice. I only heeded the call of some respected personalities in Kano and Abuja to suspend the visit."
"Save for the time I was in Kano on condolence visit when the governor's mother died, I have not been in Kano for almost three years.
"Police have taken over Kano just to deny a citizen his fundamental rights. I am surprised that Kano is militaralized under democratic dispensation; Kano appears like a war zone today.
"I do not fear anybody. I've been a minister of defence; and as minister, the army, the air force and navy personnel addressed me as 'sir'."
In a chat with DAILY POST on Monday, a close aide of Kwankwaso said his principal remains in the ruling party.
"Oga is still a member of the APC. However, we are waiting for outcome of the Tinubu peace committee set up by President Buhari. That's all I will say for now".