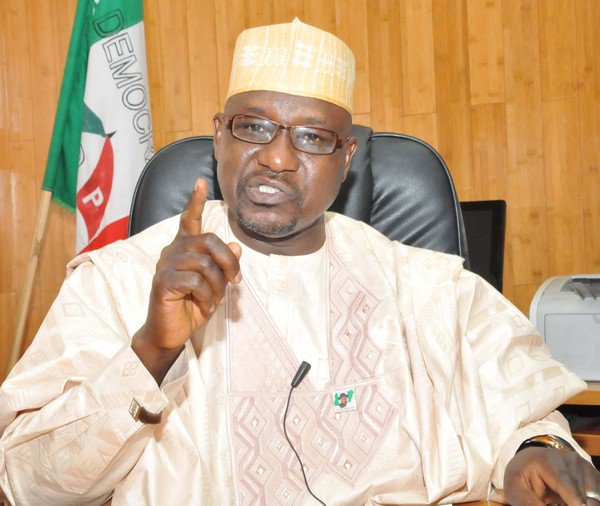 A former presidential aide from Adamawa State on Saturday officially decamped from the Peoples Democratic Party to the ruling All Progressive Congress (APC).
Ahmed Gulak, who was political adviser to former President Goodluck Jonathan said he was leading "42,000" people to the ruling APC.
He said they were earlier forced to leave PDP by impunity and lack of internal democracy
"Members of the PDP numbering 42,000 across the 21 local government areas including party executives have today wished to formally dump PDP and join APC officially.
''With this development, we formally bury PDP in Adamawa state.
"Though we are not like others, who kept decamping when their dreams and ambitions were not met.
"Constitutionally we have the right to leave and join any other party. Former President Obasanjo had earlier left PDP and tore his party membership card.
"So also former Vice President Atiku Abubakar, it could be recalled had first left PDP and joined AC that later metamorphosed to ACN. From ACN, Atiku returned back to PDP that he first left and before you know the former vice president again cross-carpeted to APC and now left to PDP again.
"So, everyone has right to change if they feel disenchanted and we have made consultations with our people who asked us to move to APC", he said
Salihu Mustapha, APC North-East chairman, said the defection was a result of the good work of the APC administration.
"All federal roads have been awarded for rehabilitation while some have reached concluding state of bidding for awarding by federal government," he said.
Reacting, the state PDP chairman of the party, Tahir Shehu, said their defection would be a big relief to the PDP, saying, "most of them were lured by Governor Jibrilla Bindow for juicy position while others have skeleton in their cupboards, and they were afraid of EFCC's hammer."