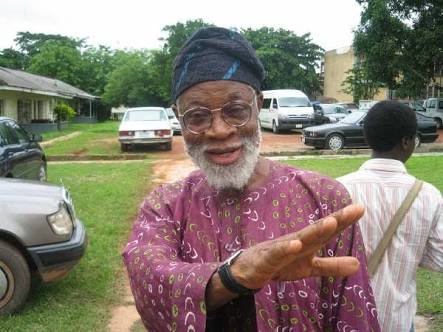 Mrs Adebola Ishola, wife of the late renowned playwright, Prof. Akinwunmi Ishola has revealed what her husband said before giving up the ghost.
According to her, Prof. Ishola gave no sign that he was going to die anytime soon.
She told reporters in Ibadan, Oyo State capital on Saturday evening that Ishola took a spoonful of custard on Saturday at 9 a.m and repeatedly said, 'Thank you my wife', before he gave up the ghost moments after.
Ishola died at exactly 9.30am in his Akobo residence in Ibadan on Saturday.
The widow said that Ishola had on Friday night taken 'amala (food from yam powder) and bean soup' dished for him.
She continued, "He finished everything. My husband did not give any sign that he would die.
"We give glory to God. The children said we should call the doctor anytime we feel that what he could do, he could not do it again. I have been keeping watch on him.
"Early this morning, we had a nurse who came and gave him his bath. I prepared custard for him. I put milo in it. As I was trying to feed him, he was just saying 'Thank you my wife' repeatedly.
"He has always been saying that anyway; even when his friends were around, he would ask them to thank me that I am the reason he was not dead yet."
The widow said that she was worried when he took just a spoonful of custard because he used to eat very well, saying that prompted her to immediately call the doctor.
She added, "I called the doctor. I also called the children, who are all living in Lagos, that their father was just praying and not taking his breakfast.
"He sat on the chair in his room upstairs. He did not say more than 'Thank you my wife'. The nurse and I laid him on the bed. He immediately gave up the ghost.
"That was around 9:30 am. Even, the doctor I called and the children were yet to arrive when he gave up. Two of the children are around now."