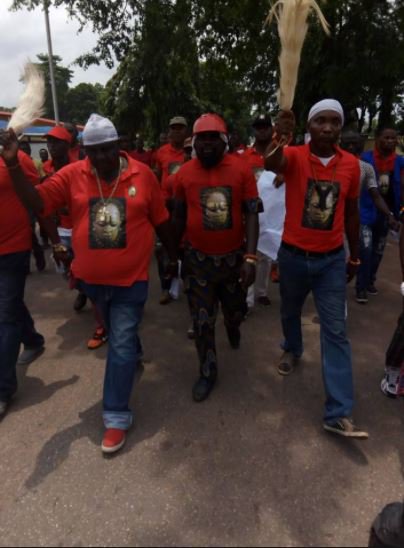 Ijaw Youth Council (IYC) has backed Vice President Yemi Osinbajo's call for state police.
IYC President, Pereotubo Oweilaemi, Esq., in a statement noted that the menace of violent herdsmen across the country was enough reason for the creation of state police.
"If States are given the power to have security apparatus to effectively carry out community policing, security threats such as herdsmen's terrorism and other social vices in the various localities will be aggressively curbed", he said.
"Nigeria is ripe to practice true federalism as is the case with the US where we copied our federal system.
"More powers should be devolved to the components States for the sake of building a virile and strong federal system.
"The herdsmen are not superhumans. It is the lacklustre of the security agencies in the country to contain their criminal activities that are making them to be notorious for terrorising innocent Nigerians.
"The security agencies are by acts or omissions, encouraging the herders to kill Nigerians with impunity.
"Even when it is glaring that these internationally acknowledged terrorists group are bearing arms while grazing their cow, the Government has not taken any step to disarm them.
"No security agency has seen it unlawful for the Fulani herdsmen to roam the streets with dangerous weapons even as they are using the same weapons to commit genocide in Nigeria.
"The recent failed attempt to kill our former president, Dr Chris Ekiyor, is an attack on the Ijaw nation. This is not the first attempt for the herders to turn the Ijaw land into a theatre of war.
"Only last month, the same marauding criminals invaded Torugbene and Tamigbe communities in Burutu LGA of Delta State. IYC cannot condone any further attack on Ijaw people or our communities.
"We won't sit idly by and allow these beasts in human form to commit genocide in our land. We will defend our people and our lands.
"As for the proposed cattle colony, our position is that the Ijaw nation is even not good for ranching not to talk of the colony because our communities are waterlogged.
"Ijaw nation has no land. We only have marshy Lands of tropical and mangrove forests. Herdsmen should not come to our communities because they will not find grass to graze their cow.
"The only available space we have is the Atlantic Ocean. If the herders can graze in the sea then we can create a colony for them in the high sea."