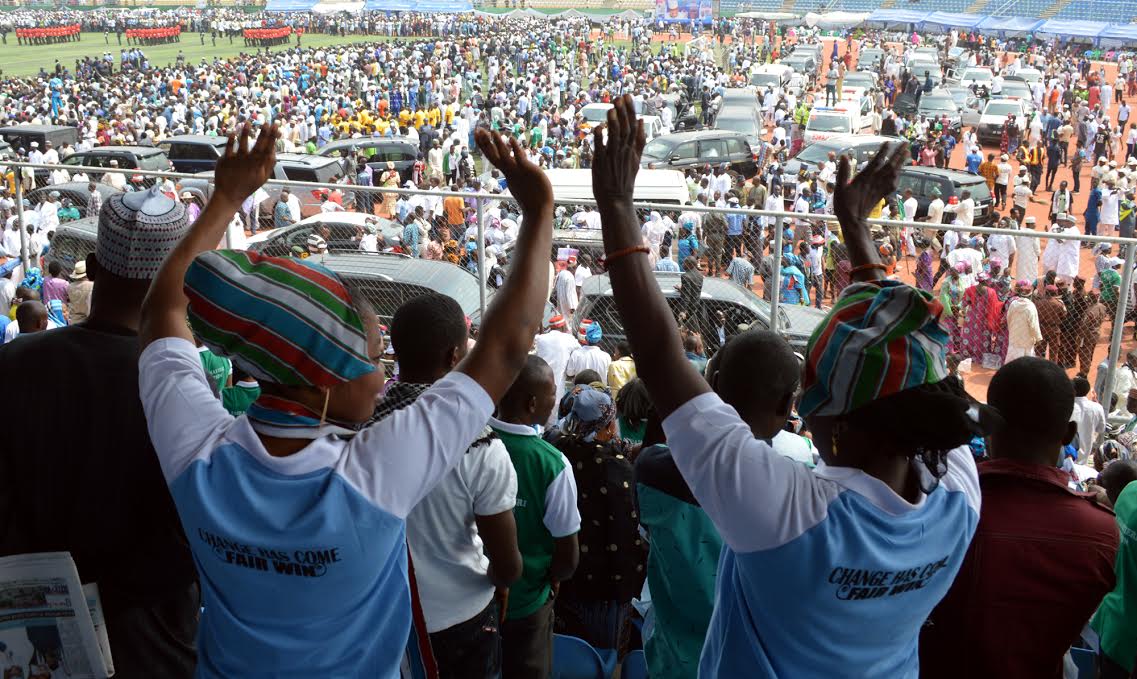 Reports have emerged that the Kogi State Governor, Alhaji Yahaya Bello's faction of the All Progressives Congress (APC) in Kogi State compelled all the 21 local government Administrators in the state to rent 500 persons from each council area to attend the party's mega rally held at the Conference Stadium, Lokoja, on Saturday, bringing the total figure of the rented crowd from the councils to 10,500.
Sources told DAILY POST that the directive to rent the crowd was conveyed to the council administrators in a text message sent to their telephone lines last week.
The message reads: "Dear Administrator, directive from leadership that all Administrators MUST mobilize 500 people each from their LG to the state APC mega rally at Confluence Stadium, Lokoja on 17/2/2018 by 10am. Please all Administrators MUST be in attendance."
Aggrieved party sources said the directive cost tax-payers a whooping sum of N210million or more because each local government voted N10million each for the event.
It was also gathered that the cost could be more as some council administrators also seized such opportunity to pad the figures up and fill their own pockets.
On its part, the state government, aside the purchase of a trailer load of textile materials with President Muhammadu Buhari and Bello's inscription on the clothes also chartered an helicopter that airlifted the APC National Chairman, Chief John Oyegun from Abuja to Obajana.
Upon the millions of Naira expended for the mega rally, DAILY POST gathered that only Alhaji Yahaya Karaku, former Okene Local Government Council Chairman defected from the Peoples Democratic Party (PDP) to APC at the event.
It was also gathered that the youths mobilized to the mega rally were paid N5,000 each as appearance fee.
Lamenting, a source said, "This is happening at a time when workers have not been paid their salaries for several months. Teachers are still been owed many months salaries and medical doctors are currently on strike over refusal of the state government to pay their salaries and arrears. Isn't this terrible?"'
But in a swift reaction, the Chief Press Secretary to Governor Bello, Petra Akinti Onyegbule laughed off the allegation, tagging it a "Campaign of calumny". She said, yesterday, I made a Facebook post and I predicted that there would be such campaigns against the state and the government, and we are not surprised this is coming out now. Nothing of such happened. Nobody would come out for a rally to support you if he or she does not like or support you, no matter how much he or she was paid. Those who came out did so because they love the APC and the government. So tell those behind these allegations to keep them coming as we are ready for them."