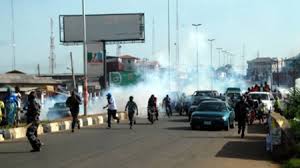 Four hoodlums on Sunday night allegedly attacked and brutalised the Independent newspaper correspondent in Kogi State, Atabor Julius .
The attackers identified as Samuel Achegbulu , Jerry Okala and two others had trailed the journalist to the gate of the secretariat of the Nigeria Union of Journalists ( NUJ) press centre in Lokoja around 7.30pm where he was dragged to a nearby restaurant and was physically assaulted.
The hoodlums alleged to be suspected members of the killer squad of the ruling party in Omala Local Government Area of the state said they were sent to kill him , but decided to beat him up as a warning against some of his reports considered inimical to them.
The hoodlums who threatened to visit him again if he did not desist from reporting their activities hinted that they had the capacity to inflict more harm on him.
Meanwhile , the matter has been reported at the A Division of the Kogi Police command in Lokoja.