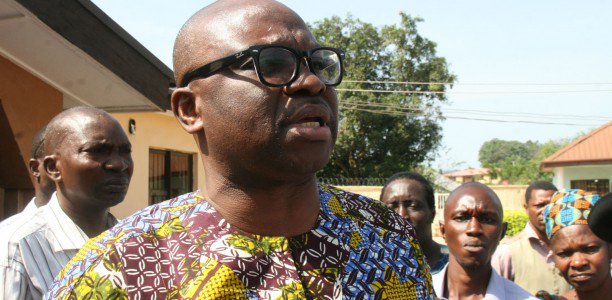 Governor of Ekiti State, Ayodele Fayose has visited Ipao Ekiti, the community where herdsmen allegedly murdered a farmer, Tunde Olayemi, 32, on Sunday in Ikole Local Government Area of the state.
Hundreds of the people of the community trooped out to welcome the governor. They displayed placards to show their displeasure at the sad development.
While meeting with leaders of the town, governor Fayose promised to set up a five-man committee that would investigate the root cause of the killings in the town.
He also promised to compensate the bereaved family and affected Fulani herdsmen who lost their cattle.
The governor also said he would amend the anti-grazing law such that anyone who kills a cow would be jailed for a year.
He appealed to the people of Ipao and their leaders to ensure that there was no reprisal.
"I appeal to you to ensure you live peacefully with the Fulani herdsmen in tour community. We want a peaceful situation and don't allow any reprisal.
"We will investigate and get the root cause of this sad development and particularly why this community has become a flashpoint so we can find a lasting solution to it.
"The security operatives have been deployed to your town and would secure your place," he said.
Commissioner of police in the state, Ibrahim Chafe assured that he was holding a meeting with all other security operatives, such as the State Security Services, Civil Defense Corps, and the army on how to mobilise their men to secure the community.
"I'm holding a security meeting with all other security operatives to discuss how we would ecure the community with our men.
"The reason why this community has become a flashpoint is because it is a border town. We will be on top of the situation and this would no longer happen," he said.