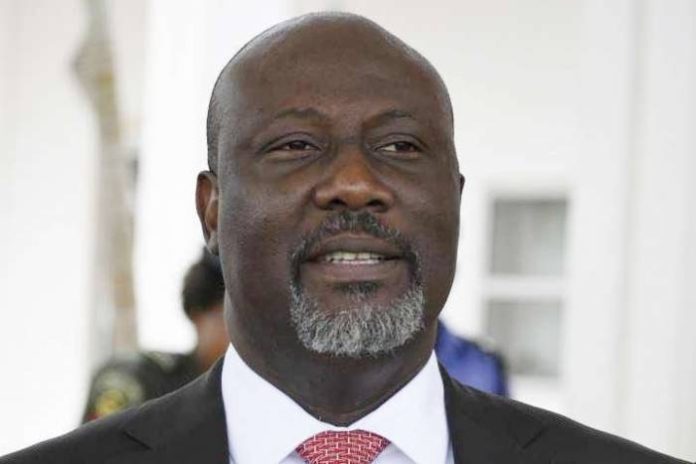 The federal government has filed a two-count charge against Senator Dino Melaye for allegedly giving false information to the police in relation to claim in April 17 of an attempt on his life.
The charge marked: CR/106/18 was filed on January 31 this year before the High Court of the Federal Capital Territory in Maitama by the office of the Attorney General of the Federation (AGF).
Melaye is, in the charge, accused of falsely incriminating the Chief of Staff to Governor Yahaya Bello of Kogi State, Edward Onoja David, in his assassination attempt claim.
Melaye, who is the Senator representing Kogi East Senatorial District, was accused, in count one, of deliberately giving false information to the police to frame Governor Bello's Chief of Staff as the mastermind of the assassination attempt on him at his hometown in Ayetoro-Gbede in Kogi State in April last year.
According to the charge, the police discovered the alleged falsehood in Melaye's claim while investigating the Senator's allegation that some individuals attempted to assassinate him.
In the second count, Melaye was accused of making false statement of facts in a phone conversation with Mr. Mohammed Abudu Abubakar, a son of the late former governor of Kogi State, Abubakar Audu, with the intention of harming the reputation of David.
In the charge, Melaye's alleged offences are said to be punishable under sections 140 and 393 of the Peal Code Law, Cap. 89, Laws of Northern Nigeria, 1963.
The first of the two counts read, "That you, Senator Dino Melaye, male, of the Senate, National Assembly, Three Arms Zone, Abuja, on or about the month of April 2017 at the Police Force Headquarters, Abuja, within the jurisdiction of this honourable court in the cause of an investigation into the alleged assassination attempt on you, sometimes in April 2017, you gave information to the police stating that one Mr. Edward Onoja David (Chief of Staff to the Governor of Kogi State) did mastermind the attack with intent to convict him for the offence which statement you either knew or believe to be false and you thereby committed an offence punishable under section 140 of the Penal Code Law, Cap. 89, Laws of Northern Nigeria, 1963."
Melaye was said to have told Abubakar, son of a former Kogi State Governor, in a telephone conversation how he framed Edward Onoja David in the assassination attempt.
He was also said to have made the false claim in the statement he made to the police on April 17, 2017 during police's investigation into the alleged attempt to assassinate him. No date is set yet for his arraignment.
AD:
To get thousands of free final year project topics and materials sorted by subject to help with your research
[click here]