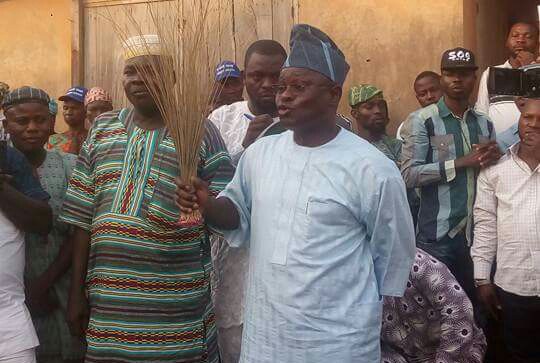 Eight days after his retirement, the immediate past Head of Service (HOS), in Oyo State, Mr. Soji Eniade has formally joined the ruling All Progressives Congress (APC) in the state.
Eniade joined the party after he registered at Ward 12 in Ibadan North East local government area of the state on Thursday.
The former HOS' successor, Hannah Ogunesan was named immediately after he retired from service on Thursday, 8th February, 2018.
DAILY POST recalls that Eniade was with immediate effect given a political appointment by Governor Abiola Ajimobi of the state as Executive Assistant, Administration, with effect from February 8th, the day he formally retired from the state civil service "in view of his sterling performance" during his tenure as the number one civil servant in the state, Ajimobi appoints Hannah Ogunesan as Oyo Head of Service. 
The former HOS while speaking during his registration explained that his decision to join politics was to heed calls by residents across the state for him to utilise his intellect and experience for the continued development of the state.
Ajimobi at the 2018 inter-faith prayer session praised Eniade's personality, assuring of political mentorship if Eniade ventured into politics. The Governor lauded Eniade's high intellect, professional excellence, native intelligence, loyalty and humility.
Speaking after his registration at Methodist E9 School, Ibadan, Eniade assured that he would abide by party's rules and regulations as he added that his venturing into politics was driven by concern for the welfare of the people and commitment to ensuring sustained development of the state.
Eniade who retired after 35 years in service, obtained degrees from Obafemi Awolowo University (OAU)and University of University of Ibadan (UI).
The former HOS who a son of one of the APC leaders in the state, Chief Ayo Eniade, DAILY POST gathered is one of those considered being considered by Ajimobi to succeed him in 2019.
A source who bagged not to be named while speaking on Eniade's political journey, said he is being considered to succeed Ajimobi
for many reasons.
Some of the reasons according to the source is that, "He was an outstanding civil servant, reliable, a son of one of the supporters of the governor and APC in the state and he is also from Ibadan like the governor.