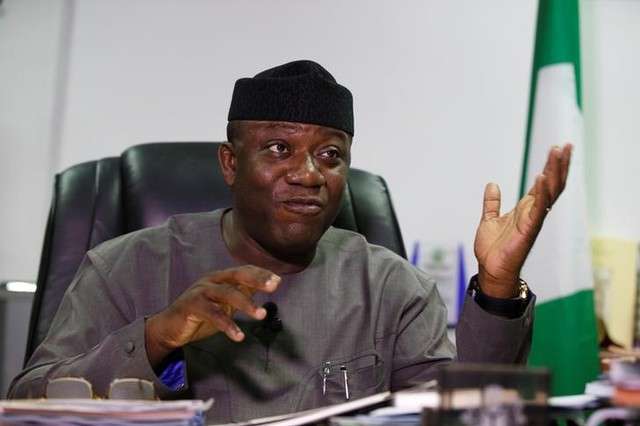 The Minister of Solid Mineral Development, Kayode Fayemi, has spoken on running in the forthcoming governorship election in Ekiti State.
He said "we'll cross that bridge when we get there."
The former governor also described Ekiti as a sick child needing urgent attention.
Fayemi, who was a former governor of the state, in a interview with Vanguard, said the report was all political speculations, adding that he had not told anyone he was seeking reelection.
Asked if he was aspiring to return to power in the governorship election in Ekiti later this year, he said, "It is the stuff of politics for people to speculate, especially as elections draw close. But there is nothing that is happening now that is new; since I left office in Ekiti in 2014, I have always made it a point of duty to host party leaders and members every quarter, and we use these gatherings to reflect on the state of the party and state of the nation.
"We've held these meetings 12 consecutive times. Of course, based on feedback, we've also broadened representation at the meetings. So, the one you've witnessed today is very large because all wards, local governments, LCDAs, senatorial and state executives of the party were here led by our National Deputy Chairman, Engr. Segun Oni who is from Ekiti and our State Party chairman, Chief Jide Awe. Over 7,000 party chieftains came here today.
"The bottom line for us is that we have to ensure that our party is well positioned and strengthened to go into elections. It has nothing to do with personal ambition or an intention to contest. I believe that is the burden leadership has thrust upon me, and I don't want to shirk that responsibility.
"The choice really for every Ekiti free-born is either to walk away and avoid Ekiti like a plague. And many have done that, particularly the elite. The alternative is to treat Ekiti as a sick child. We all know how a concerned mother treats a sick child; when a child is sick, and the child refuses to take any food and the prescribed drugs, our mothers apply tough love to that child and what is that tough love?
"In Ekiti, mothers have a way of force-feeding the sick child – blocking his two nostrils, pinning his hands and legs down, before putting the food and drugs in the child's mouth. Of course, the child will wail and cry as mothers apply this tough love, but ultimately, it is for the good of the child because, if you agree with me that Ekiti is a sick child, I leave you to speculate about the application of tough love on a sick child. As for contest or no contest, we will cross that bridge when we get there."