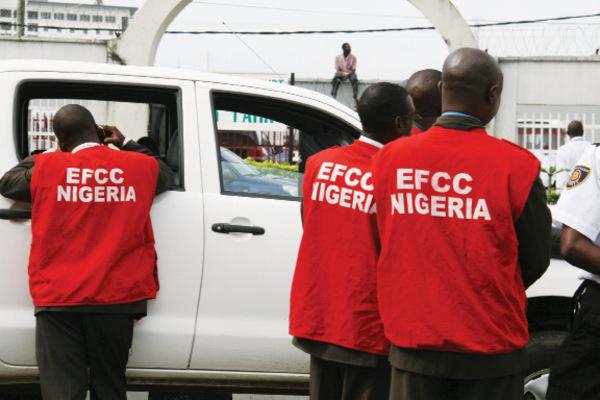 The Economic and Financial Crimes Commission (EFCC) said it recovered N130 million as part of the illegal funds expended during the 2015 general election in Gombe state.
It also said it has secured nine convictions in the state within the same time-frame.
Johnson Babalola, Head of Operations at the Gombe Zonal Office of the EFCC, disclosed this on Thursday, when he paid a courtesy visit to the secretariat of the Correspondents' Chapel of the NUJ.
Babalola said several others cases were ongoing at the courts, including that of an unnamed official of the Independent National Electoral Commission (INEC) from Taraba State.
While stating the purpose of his visit, Babalola tasked journalists working in the state to assist the anti graft agency in spreading the gospel of anti corruption war as according to him, Nigeria would have since collapsed but for the redirection and reinvigoration of the fight against corruption by the present administration under President Muhammadu Buhari.
Babalola sought the collaboration of the media towards fashioning out a strategy to stop politicians from stealing public funds.
"It has become imperative on both of us to join hands in the collective fight against corruption. The hospitals that have been turned to mere consulting clinics, the roads that are now death traps are all products of corruption," he said.
He urged Nigerians to key into the anti-corruption war embarked upon by the EFCC under the leadership of Ibrahim Magu who has remained resolute in his determination to drastically reduce corruption in the country.
"Nigerian politicians are not normal. Someone that is over 60 years of age would steal millions of naira that he may eventually not be able to use because of ill health.
"With this new orientation, we must be able to say, enough is enough and to checkmate those subverting the due process for private gains," he said.
He enjoined journalists to support the activities of the EFCC by educating the citizens on the negative consequences of corruption.
Babalola explained that staff of the agency were well motivated to prosecute the anti graft war without let or hindrance.
"We are more determined because we are assured the money we collect from a thief would not end up with another thief," he said.
He said the agency would quiz all those suspected to have benefited from one form of corruption or the other and to return monies recovered to the national treasury.