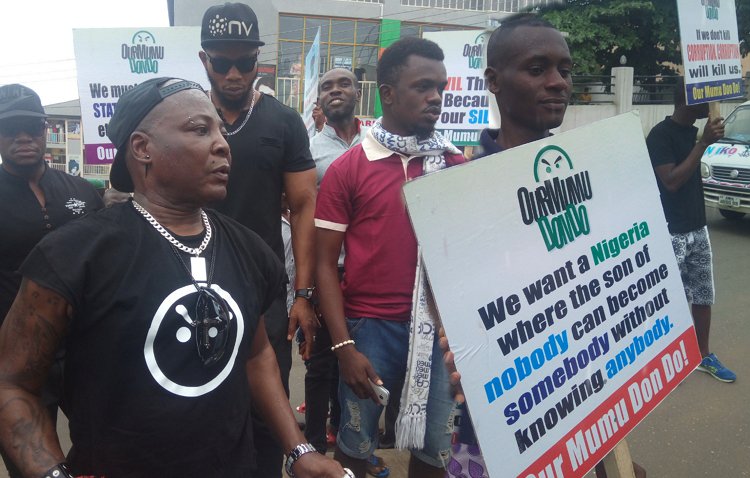 Charly Boy group, 'Our Mumu Don Do' staged a protest at the headquarters of Independent National Electoral Commission (INEC) in Abuja on Monday.
The group in their numbers were in INEC office alongside other civil society organisations, which include, Conveners of Concerned Nigerians, Deji Adeyanju; OurMumuDonDo, Raphael Adebayo; Coalition in Defence of Nigerian Democracy, Ariyo Dare Atoye; as well as Campaign for Democracy; Bako Abdul Usman and MAD Connect, Moses Paul.
They were received by a senior police officer, Paul Odama and Assistant Director, Security Directorate of INEC, Muse Sekpe, who led their representatives into the premises to personally submit the protest letter.
A statement co-signed by leaders of the all the groups read: "In view of the foregoing, therefore, we humbly request a strategic engagement with INEC to discuss the issues identified above and other likely developments obstructing the electoral process, and how we can equally be of significant help as stakeholders.
"We sincerely hope that our request will be given a quick attention, treated with dispatch and a date of engagement will be communicated to the group soonest.
"The OurMumuDonDo movement is deeply and genuinely concerned that if necessary actions are not taken to remedy deficiencies plaguing the electoral process, it will be difficult to eradicate voter-apathy and disenfranchisement, and even more difficult to sustain our democracy.
"Whilst awaiting your crucial response, please accept the assurances of our highest regards."