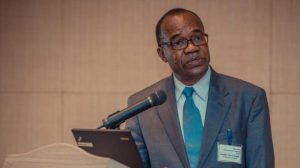 The Central Bank of Nigeria (CBN) may increase monetary policy rate (MPR) if inflationary pressures do not abate, Joseph Nnanna, deputy governor of the apex bank, has told Bloomberg .
Nnanna said although the monetary policy committee (MPC) wants to keep the major determinant of interest rate positive, the anticipation of increased spending ahead of the 2019 elections could slant some members' votes toward a rate hike.
At the end of its July meeting in Abuja, members of the MPC voted to retain the MPR at 14 percent for the 11th consecutive time.
"Every member of the monetary policy committee is certain that the monetary policy rate should increase if inflationary pressures build up," Nnanna said.
"Our intention is to ensure that the interest rate is kept positive in real terms.
"These factors (increased public spending) would warrant a rate increase to send the right signal to the public, that the central bank will tighten policy to respond to higher inflation.
"There's a scope to raise rates before the elections in February."
The CBN deputy governor said the committee has witnessed a "shift" such that three out of 10 members voted for higher rates at the July meeting.
"The central bank is still in the mood for tightening," he said.
"How fast are we going to tighten is what members haven't agreed upon."
In March, the International Monetary Fund (IMF)
advised Nigeria to increase excise tax and monetary policy rate in a bid to strengthen the economy.
source:thecable.ng