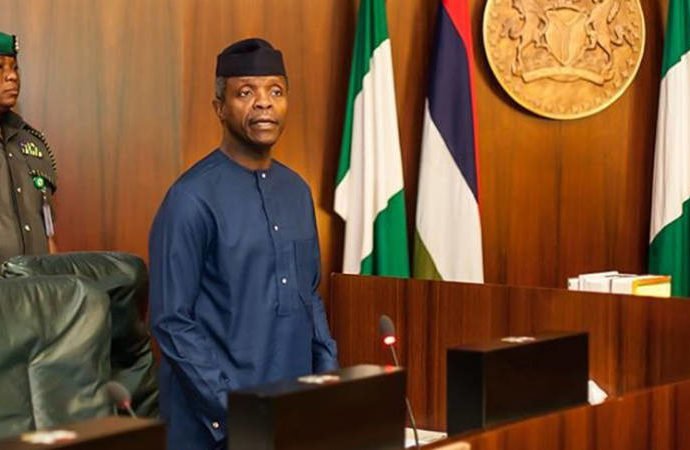 Nigerian Vice-president, Prof. Yemi Osinbajo has said that the firm stance of Buhari led administration against corruption, coupled with prudent management of Nigeria's natural resources stands the government out among successive governments in Nigeria.
He added that the Buhari presidency should be scored high despite array of economic challenges.
According to a press statement made available to newsmen by the Special Assistant to the Vice-president on Media and Publicity, Mr Laolu Akande, Osinbajo made the remarks while Speaking at the Kogi Economic and Investment Summit in Lokoja on Tuesday.
The Vice-president stressed that the sharp drop in the accruing revenue notwithstanding, the administration had made the highest capital spending in the history of the country to the tune of of N1.3 trillion.
He averred that unprecedented success had been achieved in the area of infrastructural facility and agriculture.
"Despite 60% less revenue, we have, by stopping grand corruption, made the highest capital spend in the history of the country in the sum of about N1.3 trillion. We are, for the first time, taking on the game-changing infrastructure projects.
"We have experienced an agricultural revolution, doing close to 15 million metric tons of paddy yearly. We used to spend almost $3 billion on rice importation, now rice importation has been cut by 80%."
"We are today building the Lagos-Kano standard gauge rail and we have signed up for the Lagos-Calabar rail project. We are also building, after 40 years, the Mambilla hydro project, while work on the Second Niger Bridge is going on daily.
"We are daily increasing power supply and once we conclude some strategic transmission projects, we would see a truly appreciable improvement in domestic and industrial power supply.
"Also, we have given more support to State Governments than any other government since 1999.
"As of September 2017, total support (excess crude account loan and Budget support facility), excluding Paris club refunds, is in the order of N876. 3 billion, and if we add Paris club refunds we will have disbursed N1.91 trillion.
"We have through the Quarterly Business Forum and the Industrial Council, collaborated with the private sector. We believe that the private sector is the key", Osinbajo said.
He further noted that the Federal Government had, through the Social Investment Programmes, encouraged more young entrepreneurs, as well as empowering vulnerable and poor households across the country.
Meanwhile, Governor Yahaya Bello in his earlier remark, said the state was ready to engage in partnerships with both the private sector and the Federal Government to transform the fortunes of the state and empower more young people across different sectors.