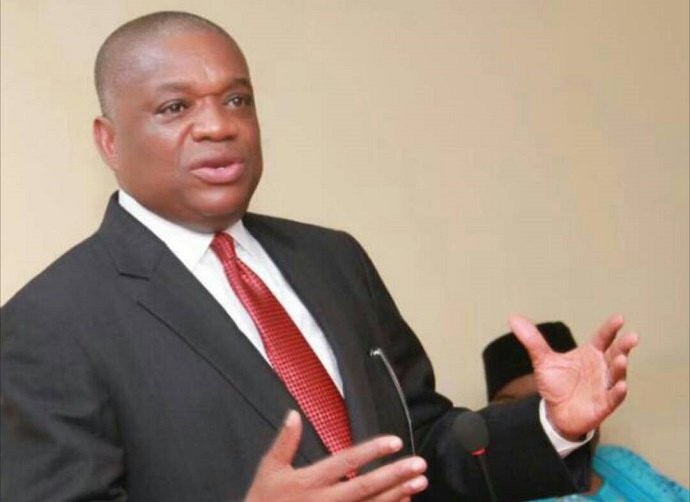 A former Abia State Governor, Orji Uzor Kalu, has blasted a former President, Olusegun Obasanjo and other critics of the President Muhammadu Buhari-led administration.
He described Obasanjo as someone who took no criticism and replied to no letter while in office.
Kalu maintained that President Buhari deserved a second term.
The former Governor said this during a courtesy visit to the Ake palace of the Alake and Paramount Ruler of Egbaland, Oba Adedotun Gbadebo, in Abeokuta, the Ogun State capital.
His speech was in response to former President Olusegun Obasanjo's latest scathing comments that the Buhari-led government had been ineffective and incompetent and does not deserve re-election in 2019.
He said, "In any democracy, there must be people for and against. We are for Buhari, some people are against and we wish them well.
"And we want to thank you for the key role of peace that you and other traditional rulers have been playing. Nigeria unity is non-negotiable.
"We are for oneness of this country, we are for leaders who are sincere to lead us well, we are for leaders who are equally committed to the rules and tenets of democracy.
"The greatest challenge of our country is leaders not obeying the law. When they are leaders, they don't want to obey the law; when they go out of leadership, they criticise everybody who wants to obey the law. This is the problem of the country.
"We have had leaders who disobeyed every law of the land. We've also had leaders who were reckless when they were leaders and when they go out, they call people all kinds of name.
"We have also seen leaders that have never seen anything good in other people's leadership, they only know about themselves.
"So, we want to thank you for the support…I know you are close friend of President Muhammadu Buhari and I want you to maintain that friendship; don't allow anybody to distract you whether people from here or from my area, stay in course.
"President Buhari has not finished the job he came to do. If God gives him good health and long life, he has not finished. He has to go for another four years to be able to finish.
"Despite people who are criticising and these people also took no criticism when they were in office. Despite people who are writing letters; these people we also wrote letters to them, they didn't reply to our own letters."