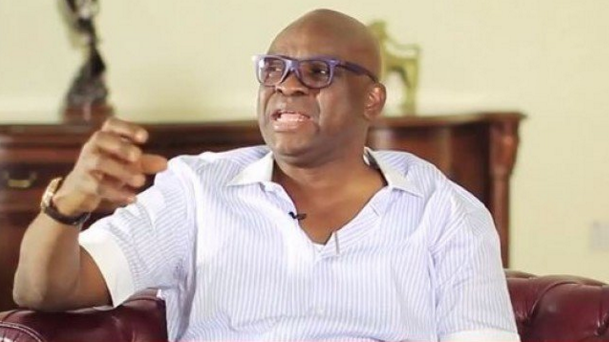 Governor Ayodele Fayose of Ekiti State has stated that President Muhammadu Buhari is not in charge of Nigeria and that the country is being governed by a cabal in the Presidential Villa.
The governor, who said he does not have any against the President, insisted that Buhari does not have the political will to tackle security challenges facing the country such as the incessant attacks by Fulani herdsmen.
In a press statement by his Chief Press Secretary, idowu Adelusi, Fayose said, "The constitution of Nigeria is no longer working. Let me come to the level of incidents happening around.
"In the conception of that constitution, it does not really want the governor of Ekiti to have control over security apparatus to help his people.
"And to worsen matters, people who are supposed to protect this constitution are now collaborators, they are the ones trampling on the constitution and that is the Federal Government.
"Everyday now, there is an occurrence of killing people. There is no security for anybody. A herder would threaten to command his cow to attack farmers.
"Anybody can see you on the way and attack you. They even slaughter their victims from the back. You can't even demean an animal like that. They would even threaten farmers that if I see you in your farm, I will kill you. We have lost it.
"This administration rode to power with threefold promises, to fix economy and power and fight corruption, everything has failed in all aspect.
"Let us look at Ghana on the issue of herdsmen attacks, that country dealt with their herdsmen and got rid of them and they have peace of mind afterwards.
"But look at Nigeria, a minister would say that a governor is blocking the road. How important is a cow to human beings. I don't know we got into this mess as a nation, we are at the mercy of cattle rearers.
"We are now at the mercy of the current administration headed by someone who does not see any other tribe as important.
"Let us ask ourselves, the number of people that have been killed by Fulani herdsmen since Buhari came into power is more than the ones killed right independence till 2015."
Fayose further urged Nigerians to vote out Buhari in 2019, saying, "Before this administration came to power, I warned Nigerians, and I am warning again, if by any chance Buhari comes back to power, the would doomed.
"I have nothing against Buhari, he is our leader and remains so. All that I have spoken about presidency has come to pass. I was a 24 years old man when President Buhari was military Head of State at that time, the same way ruled then is that same way it is happening now.
"Majority of the people that voted for Buhari are in the age bracket of 18 to 40. They didn't know who he was. I am telling you expressly that this country is not well governed.
"The principal thing the people look for before you can talk of food is security, Nigeria is not secured. I said that the President wasn't fit health wise to govern and he was away from office for more than half a year.
"That explains what I have been saying, 'Nigerian does need a man of over 70 years of age. It is not personal and I respect President Buhari but the fact is that my mother cannot say she wanted to be governor of Ekiti. Nigeria needs a hands on presidency.
"You talk about Buhari's experience but your experience is okay only if the body is okay and vice versa. Let us be realistic, Nigeria is of 180 million people, can't we find one young, vibrant person who can lead us?
"We are more militarised than ever before. I would support people who would have imbibed democratic principles to be our President. I am going to be President of this country, write it down.
"I know many would not believe me because the carnal things are what men believe. I told them I will be governor again they didn't believe me now I am here as governor.
"I have told camera men, take my picture because I may be a bit older then. As long as the lord liveth I will rule this country."
Alleging that Buhari is not fully in charge but overwhelmed by a cabal, he said, "The President is not in charge he is being governed himself, by a cabal, just like it happened under late Yar'Adua. As time goes on, these cabals will be exposed."