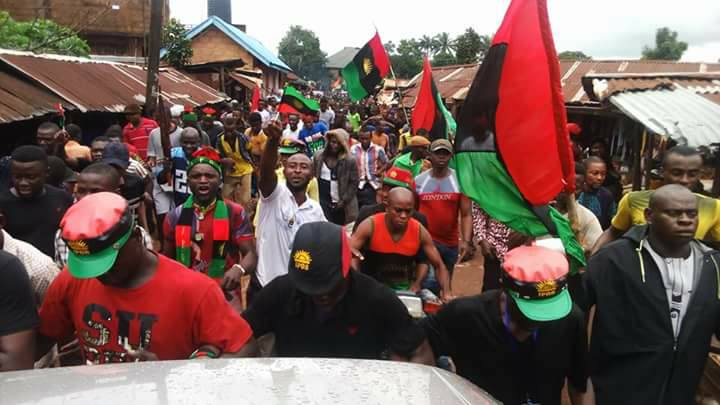 The Indigenous People of Biafra, IPOB, has alleged that the President Muhammadu Buhari-led Federal Government deployed Fulani soldiers to Benue State to protect herdsmen and not people of the state.
IPOB said the deployment of Fulani soldiers was to "hoodwink the masses" into thinking that the current government is serious about fighting the crisis the govetnment created.
In a statement by its spokesperson, Emma Powerful, the pro-Biafra group maintained that the the deployment of troops to Benue State was "not real."
The statement reads, "The deployment of troops to beleaguered Benue communities is a fraud designed to hoodwink the masses into thinking that this Buhari administration is serious about fighting the menace of Fulani herdsmen which they created through their policy of acquiescence and appeasement. An Australian Islamic cleric a few days ago summarized governance in Nigeria by tagging this Buhari regime a terrorist administration.
"This is from the mouth of an Islamic cleric not IPOB. These so called troops allegedly deployed to Benue are all staffed by Fulani officers who as usual will provide protection and cover for the tribesmen who are doing the killing. The world witnessed the same scenario in Southern Kaduna in 201617 or we have, suddenly forgotten. Did Nigerian Army not supply murderous Fulani herdsmen with arms with which they massacred and sacked non Muslim villages in Southern Kaduna?
"This government is currently in the midst of deceit but unfortunately some people are being taken in by their lies. It took pressure from all over the world to get this administration to agree to this paper deployment because we know it's not real. A non violent organisation like IPOB had Operation Python Dance unleashed on the entire South East and South South with active connivance of Igbo politicians and Ohaneze Ndigbo leadership.
"Have you heard a single word of condemnation from any Hausa Fulani governor or Arewa Consultative Forum against these killer herdsmen? The answer is a capital NO. Maybe there is a lesson here to be learned by Igbo politicians and Ohaneze Ndigbo.
"The best remedy for the murderous mayhem of Fulani terrorists is to divide Nigeria. Anybody still habouring the hope of one united prosperous Nigeria is living in a fools paradise. Unfortunately this belatedly announced Operation Cat paws or whatever they named it, to deal with a band of hardened state sponsored terrorists is totally meaningless. People will continue to die needlessly until Nigeria is divided."