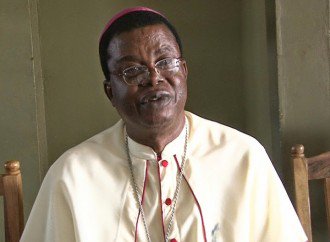 The Catholic Bishop of Awka Diocese, His Lordship, Most Rev. Dr Paulinus Ezeokafor, has said the Catholic Church does not rely on tithes from members for its existence.
Ezeokafor was apparently speaking in reply to a statement credited to Kogi State governor, Yahaya Bello who had while fielding questions from journalists on the recent visit of members of the Catholic Bishops Conference of Nigeria (CBCN) to President Buhari said that the Bishops were not happy because Buhari was fighting corruption, hence denying most corrupt officials from bringing tithes from stolen wealth to the bishops.
The Awka Catholic Bishop, who spoke on Sunday while taking delivery of a 48 en-suite building donated to the diocese by its members living in Lagos at the retreat centre, Okpuno Awka said Bello should have addressed the issues raised by the CBCN rather than trying to scandalise the church which he said did not dwell on the doctrine of tithing.
"Tithe is not a doctrine in the Catholic Church, it is private to the individuals and you know it is an old testament way of life for believers.
"You cannot get at the Catholic Church talking about that. Truth is that if we tell people to bring 10 per cent of their income and they all bring it as a matter of law, this Diocese will be heaven.
"The Catholic Church does not want to multiply the sins of the people because if you make tithe a law and they don't bring it, it becomes a sin, just as in the case if Ananias.
"We see the statement of Governor Yahaya Bello as just trying to distract the people, the church has told the president the truth, if he likes let him listen.
"Let them address the issues that were presented during the visit; need for equitable appointment, need for equal security for all Nigerians, the need to protect both the farmers and the herdsmen.
"Nobody should talk about tithe here, how much is the person paying, the Gov in question is not even a Christian so he is not even competent to discuss it.
"Let us tell ourselves the truth, these politicians should stop being selfish, their interest is what is important to them, they are ready to hit whatever will stand in the way of their selfish interest," the Bishop said.