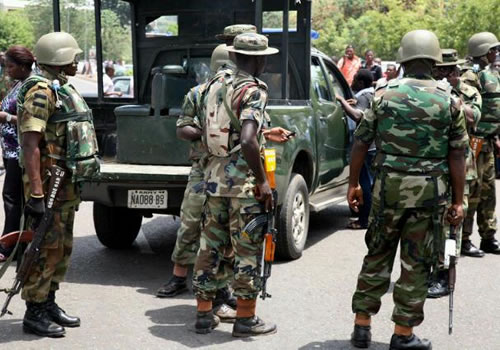 The Nigerian Army 4 Brigade in Benin -City,Edo State on Friday admitted that its troops mistakenly shot dead a member of vigilante in Olobo community during an exchange of gunfire with suspected armed robbers in the State.
The Army made this known in a statement signed by its Assistant Director of Public Relations, 4 Brigade, Capt. Mohammed M Maidawa and made available to DAILY POST.
The Army also denied the allegations that the troops released the armed robbers and herdsmen after killing the vigilante member.
The Army said,"It is incorrect that we release any armed robber or herdsmen."
The Army claimed that its troops deployed at Olobo for pipeline protection received a tip off from locals close to the location of suspected armed robbery activities.
According to the Army,"Troops quickly mobilised to the scene and engaged armed men at the scene. Unfortunately, one man who was later identified as member of vigilante group was killed."
The Army explained that Preliminary investigation revealed that the vigilante group also responded to the distressed call on the suspected robbery activities by locals and were mistakenly engaged by troops.
The Army noted that the vigilante initially staged a demonstration but the situation was brought under control.