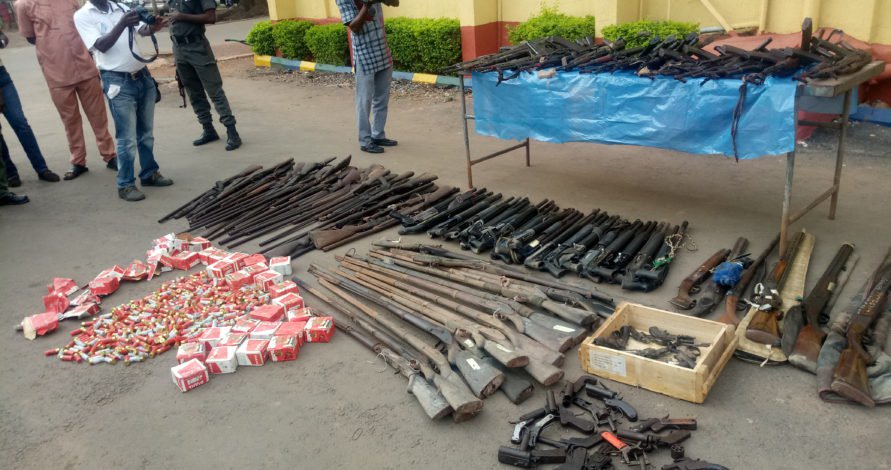 Ebonyi State Police command on Wednesday said it has discovered and destroyed an arms making factory in the state.
The Commissioner of Police, CP, Titus Lamorde said the arms were recovered in compliance with the Inspector General of Police, Ibrahim Idris' directive to all Commands CPs and other police formations to mop up prohibited and illegal firearms and ammunitions in circulation nationwide.
The command recovered a cache of 146 prohibited/illegal firearms and assorted ammunitions that were hitherto in possession of unauthorised persons in the state.
Lamorde said that the Command setup a taskforce headed by a Deputy Commissioner of Police in charge of Criminal Investigation Department, Oyeyemi Oyediran to carry out the mop up.
The task force, he said, recovered some of the arms in hands of some persons in the state who have been charged to court for illegal possession of firearms.
Mr Lamorde said the Police acting on a tip-of destroyed a factory where guns were being manufactured at Mgbo in Ohaukwu local government area of the state.
"The Police acting on a tip off discorvered an arms making factory in Mgbo and on getting there the owner ran away but we recovered some of the locally made arms there", he said.
He commended those who voluntarily surrendered their arms and urged others still with theirs to submit them immediately, promising that no punishment will be meted out to them.
"However, if they fail to do so and we catch them with the arms, they will be prosecuted, so we encourage them to utilise this opportunity by the IGP to submit the arms," he stated.
He listed some of the arms recovered to include 18 AK 47 rifles, six G3 rifles, 21 pump action riffles, six English made double barrel guns, 33 locally made short guns, sixty two dane-guns and quantities of live ammunition and cartridges of different calibre.
The CP urged stakeholders and the general public to continue to collaborate with the police by giving useful information on persons or group of persons in possession of prohibited firearms.