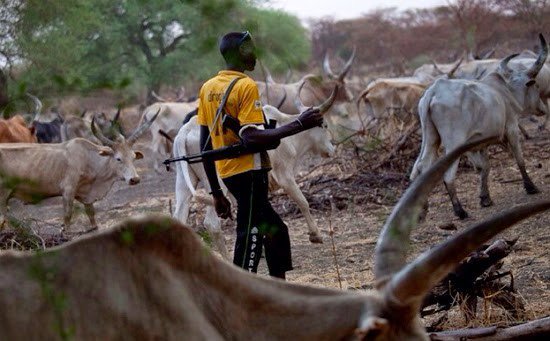 The Peoples Democratic Party (PDP) in Ekiti State has described as sad and strange, the ​"​tacit support​"​ by the All Progressives Congress (APC) in the State for the killings and destruction of farmlands being perpetrated by Fulani herdsmen.
State Publicity Secretary of the PDP, Mr Jackson Adebayo, ​said this while reacting to reported comment by the APC Deputy Chairman, Chief Kemi Olaleye that States Anti-Grazing Law pioneered by the Governor Ayodele Fayose and farmers should be blamed for killings by Fulani herdsmen.
Adebayo​,​ in a press statement issued on Monday, ​noted ​that it was strange that the APC never said a word to condemn the murder of innocent sons and daughter of Ekiti State as well as destruction of people farmlands.
The PDP said instead of showing empathy and supporting the efforts Fayose to end the menace, the APC and its leaders have been inciting the herdsmen, especially its umbrella organization, Miyetti Allah Cattle Breeders Association ​(MACBAN) ​against the government.
The party said; "They are even saying that they will create cattle colonies in the State if they return to power and we wonder how a responsible political party will because of quest for power go into agreement that will cede lands in the State to people who are embarking on wanton killings and destruction of farmlands.
"If they claim they are not giving tacit support to herdsmen, Ekiti people should ask the APC people one single press statement they issued to condemn the killings by herdsmen and called for arrest of the perpetrators.
"Rather than condemning the herdsmen killings in Oke Oke, Orin, Okemesi, Aiyede, Ipao and other places, what the APC and its obviously heartless leaders have been doing is to criticize Governor Fayose for the anti-grazing law and visiting Benue State to commiserate with Governor Samuel Ortom and the people of the State over the killings of 73 people by herdsmen."
The PDP admonished the APC in Ekiti State to desist from playing politics with the lives of the people, noting that support for President Muhammadu Buhari should not be translated to giving support for crimes committed by Fulani herdsmen.