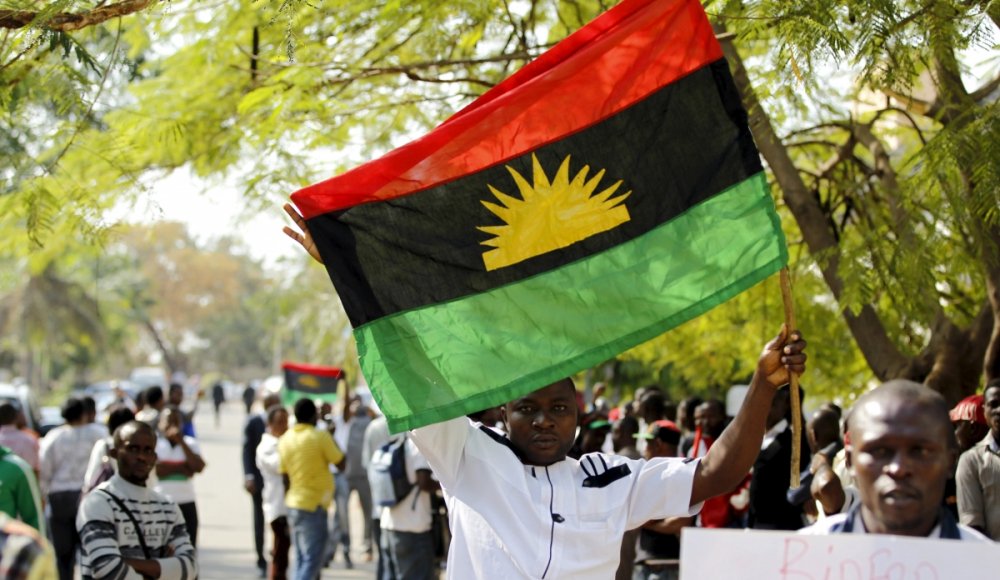 The leadership of the Movement for the Actualization of the Sovereign state of Biafra (MASSOB) at the weekend claimed that the 2019 general elections will mark the expiration of the Nigerian entity, even as it decried what the group called the high level of hatred of Ndigbo by President Muhammadu Buhari.
MASSOB made this known through a statement signed by its National Leader, Comrade Uche Mmadu, and issued to DAILY POST in Abakaliki, the capital of Ebonyi state.
He condemned in totality the attempt by the President Buhari-led federal government to build a modern petroleum refinery in his home state of Katsina which, according to the MASSOB leader, was not an oil producing state.
Mmadu said: "Buhari wants to build cattle ranch in Edo state which is an oil producing state but conversely wants to build a refinery in Katsina which is a cattle rearing state and many people are still wondering what is wrong with Nigeria as a country? This is an open evidence of sadism and wickedness which always exposes Nigeria as a state of injustices and inequalities where marginalization, deprivations and subjections of Biafrans and Christians are highly promoted.
"Nigeria is a state where some are first class citizens while others are second class; a state where some are born to rule while others are perpetual outcasts, a state where state policy deliberately denies Biafra land critical developmental infrastructure while according others same, a state where prejudice, tribalism, exclusion and hate are elevated while nation building is ignored, a state where it seems the only logic for unity is to share oil resources and not on the basis of consent, mutual respect, fraternity and shared brotherhood.
"For these reasons, true nationhood has remained stillborn, peace has remained elusive and Nigeria has remained in perpetual strife and ever increasing crisis since her founding. These undeniable realities are the reason the Nigerian state is afraid of Biafra and her agitators because we speak of a truth they cannot legitimately counter. We speak of a truth they know they are guilty of, so out of weakness and fear, they resort to repression, persecution detention and killings.
"In 2017, the Federal Government of Nigeria secured a loan in the sum of $6.4 Billion from China Exim Bank for execution of the Modernisation of Lagos to Kano, Kano to Kaduna and Lagos to Ibadan rail segment.
"Also the Federal Executive Council (FEC) in 2014 approved 1.488 billion dollars for the execution of the Lagos-Ibadan double track railway line modernisation project.
"Those wondering why US$2 Billion is being yanked off the Treasury of Nigeria by the Caliphate Controlled Federal Government under Muhammadu Buhari, to build a Refinery in Katsina with Pipelines from Niger Republic or why Railways and massive Road Infrastructure are being constructed in that same axis, should know that Asset Stripping of dying Nigeria by the gambling Islamic Caliphate which now see Nigeria as their conquered territory for modern Colonization with full back up the government of Britain is an established reality .
"MASSOB reminds the people of Biafra that all of these multi billion dollars massive infrastructural developments, building of modern petroleum refineries, building of modern railway transportation for easier and faster transportation of goods/ commerce and economic booms were all cited in Arewa and Oduduwa land respectively.
"The Northern and Western regions that now enriched and developed themselves with the multi billion dollars proceeds from crude oils from Biafra land were not oil producing states. The entire Arewa land are parasitic, non producing and liability states of these geographical expression called Nigeria.
"MASSOB insists on our earlier resolution that President Mohammed Buhari still remain the last president of united Nigeria. 2019 will mark the expiration of Nigeria entity. Biafra Self Determination struggle for Actualization and restoration has reached the Point of no Return," he stated.