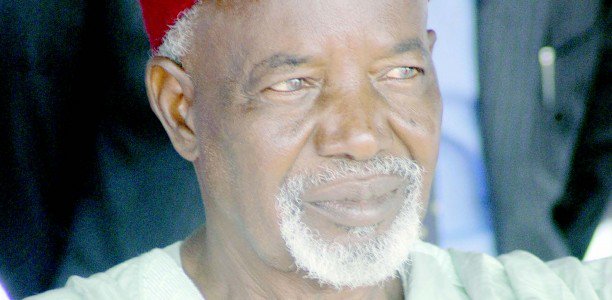 Balarabe Musa, former Governor of Kaduna State, wants the 2019 Presidency zoned to the South East.
Musa said people of the South East were more republican than the North and other zones of the country.
Noting that Hausas and Yorubas were the problem of Nigeria, the former governor stressed that Igbos were more committed to one Nigeria.
In a chat with The Sun, Musa maintained that other zones of the country were afraid of the South-East because they were very competitive.
He said, "It was because the civil war hit them badly. The civil war ended over 40 years ago, we should forgive everybody and forge ahead. The Igbo felt not wanted in Nigeria or something like that. So it makes them slow down their commitment to the unity of Nigeria.
"They became committed to separation. So historically, it is the Igbo that are more committed to one Nigeria. Even now if you take the separatist tendency and look at the separatist tendency in the North by Arewa Consultative Forum (ACF), in the West as represented by Afenifere, and in the East by Ohanaeze Ndigbo, that separatist tendency from the East is not as serious as that of the North and the West.
" It is easy to compromise once you bring sense of belonging to the Igbo separatists, they will go back to one united Nigeria. But in the case of Northerners, the Hausa and the Yoruba, it is very difficult because of this inhibition.
"You know, feudal arrangement makes it now difficult to convince the Hausa about the unity of Nigeria. But it is easier to convince the Igbo. So, why keeping the Igbo out of power for so long? Is it because of the civil war or because of the fear that they are more competitive?
"There is no doubt about it; Igbo are more competitive both in practice and history. The Igbo are more competitive than the Hausa and the Yoruba. The Hausa and Yoruba bourgeoisie are afraid of this, in particular when there is so much to share in Nigeria.
"They are afraid of the Igbo because they are not competitive. Igbo are more competitive because they don't have inhibition. The inhibition of Hausa, the inhibition of Yoruba is not there. The Yoruba can only talk of Oduduwa, the Hausa can only talk to you about empires and so on.
"But the Igbo are not that inhibitive, they are more republican. You can say largely that Igbo are free thinkers; they are more free thinkers than the Hausa and the Yoruba, which means Igbo can take things on face value, while the Yoruba and Hausa will not. Igbo are more competitive in terms of economic activities. An Igbo man is more competitive than a Yoruba man and an Hausa man."