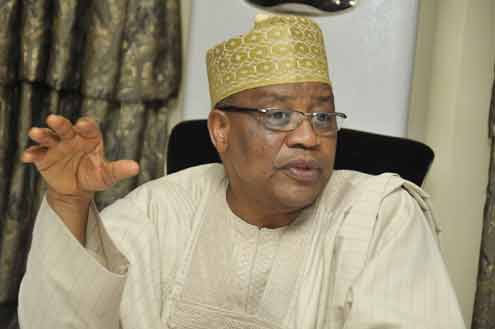 Former Military President, General Ibrahim Badamasi Babangida, at the weekend appraised his position on current political developments in the nation and surmised that the Peoples Democratic Party (PDP) must provide a better choice for Nigerians.
Babangida, who spoke in Minna, Niger state yesterday while receiving members of the National Working Committee (NWC) of the PDP led by its National Chairman, Prince Uche Secondus, also expressed satisfaction with the rebranding so far achieved by the PDP ahead of the 2019 general elections.
"I am happy at your assurances that there will be no imposition in all your primary elections. It is all about choice and you have promised to provide the best choice," he said.
Commending the elective National Convention of the PDP, the former president noted that not a few Nigerians believed that the national convention will hold adding however that the outcome was successful.
"Your 'Reposition, Rebrand and Regain' agenda is working and I mean particularly the rebranding. Some people believed that having been in government since 1999, the PDP will find opposition difficult but you are carrying on well and providing a better alternative.
"You have also not abandoned the people in times of crisis. I monitored your activities in Benue, Taraba and you just said your party has sent members to Zamfara to commiserate with the people. Surely you have made the people the centre of your return and they will not forget you because you were with them in time of sorrow.
Earlier, in the meeting, PDP National Chairman, Prince Uche Secondus, had told Babangida that former leaders of our nation must rally together to save our nation from the current administration.
He lamented the killings and economic hardships, which Nigerians contend with on daily basis, stressing that our country has never witnessed the type of division "our people are currently facing.
"As a leader, you made the welfare of Nigerians the thrust of governance. You were also concerned about the peace and unity of this nation. You created and built people as well as institutions.
"Today, our nation is drifting and as leaders you cannot afford to keep quiet and watch on the sides. Leaders like you must come together and take a firm position on how to save our nation from the precipice.
"PDP remains the only alternative platform based on our experience more so because we have learnt our lessons. We have resolved to play by the rules and operate within the confines of our party's and the Nigerian constitution.
"We are rebranding and repositioning to make our party open to all and regain the land for the people. We are determined to give opportunities to the youths and our women. We also want to mentor a new generation of young Nigerians that will take our nation to the next millennium", Prince Secondus said.
He therefore urged all Nigerians to rally with the repositioned PDP to restore the nation once more to the path of peace, national unity and economic prosperity.